The questions When was Google Analytics 4 released? and When will GA4 replace UA? have been posed frequently in recent months, but perhaps the more important thing for marketers to be asking is Am I ready for the important GA4 deadlines on the horizon?
When was Google Analytics 4 released?
The official Google Analytics 4 launch date was mid-October 2020 when it was announced as the new default analytics property for Google and the replacement for Universal Analytics. However, the original GA4 release date was 31st July 2019 when the beta version of the product came out, under its previous name App + Web.
GA4 deadlines
As the latest iteration of Google Analytics, GA4 will replace Google's Universal Analytics permanently from July 2023. This means it is advisable to migrate to Google Analytics 4 now if you have not already done so. 
Check out this summary of In Marketing We Trust's GA4 migration services. As a Certified Google Marketing Platform Partner, In Marketing We Trust is one of just 20 companies in Australia officially certified by Google to implement Google Analytics 4 for clients. Actually, we have already moved more than 50 of our clients from Universal Analytics to GA4.
The idea was to get that done early, in order to start building up an annual picture of analytics data from June 2022, before next year's final GA4 deadline.
When will GA4 replace UA fully?
From 1st July 2023, Universal Analytics will stop working. In March 2022 we covered the news of Google announcing that they will take Universal Analytics offline next year. Universal Analytics accounts will therefore stop processing new hits at the beginning of July 2023, before Universal Analytics 360 properties stop processing hits on 1st October 2023.
It is also worth noting as another important GA4 deadline – given that from this point you'll start to rely on the new version – that data previously processed in UA will be stored for at least six months after those UA deprecation dates of 1st July and 1st October 2023.
For those who are still only just learning about the GA4 July 2023 deadline and haven't set up their new Google Analytics 4 properties yet, the time to act is now. Even though there still appears to be plenty of time left, migrating to GA4 now will enable you to build up data for key metrics, so that historical data is there when you need to refer to it in your GA4 property.
Google Analytics 4 launch date on timeline
Taking a look at this visual GA4 timeline you'll see the key Google Analytics 4 release date and milestones, as well as the deadlines for when GA4 will definitively replace UA:
31st July 2019 – Beta GA4 launch date as App + Web

Mid October 2020 – Official GA4 release

16 March 2022 – Google announce 2023 UA deprecation dates

30th June 2022 – Advised GA4 deadline for adoption

1st July 2023 – Universal Analytics deprecation date

1st October 2023 – Universal Analytics 360 deprecation date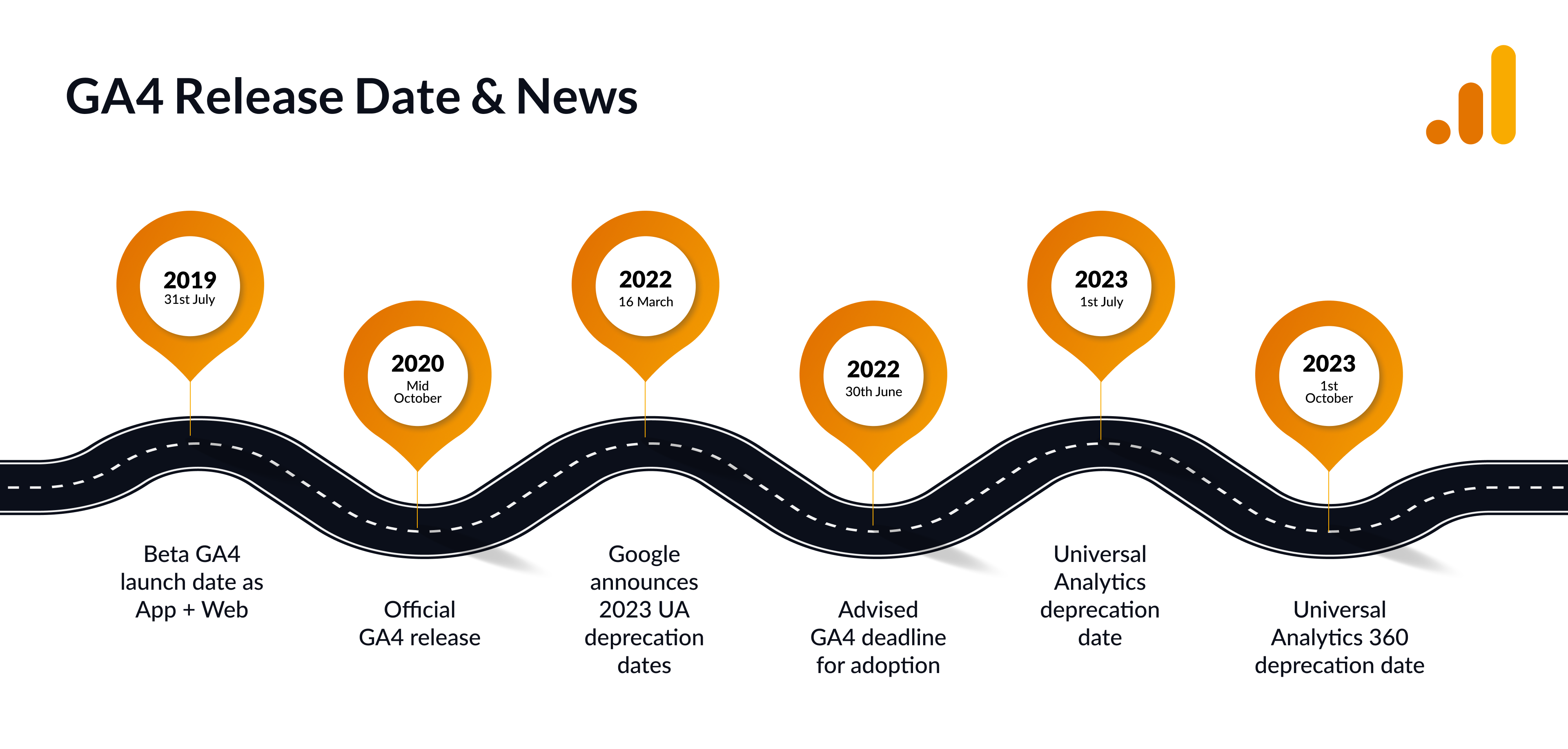 GA4 release dates – key updates
Although the Google Analytics 4 release took place three years ago in its beta form, the GA4 rollout is still ongoing in certain senses, with updates and new features continually being added to the product. We'll continue to update the following GA4 timeline list as Google improves GA4 and make further updates:
Modify and Create Web Events in Google Analytics 4
Mid-December 2020
It's announced that events that come into a Google Analytics 4 property can now be edited without any tagging changes. Edits will occur immediately and impact any events received from that point forward. This helps clean up event data that may not follow common standards and helps with conversion measurement for specific events and parameters.
Updated Conversion Counts in Google Analytics 4
Mid-March 2021
To improve measurement when third-party identifiers aren't available, Google Analytics released a fix to update conversion count metrics for app conversions in Google Analytics 4 properties and Google Analytics for Firebase. As a result, app conversion counts align more closely to the event counts in reporting.
Predictive Metrics Available in Audience & Segment Builder in GA4
Late July 2021
Predictive metrics were made available for use in Audience & Segment Builder with additional model-quality statistics in Google Analytics 4. Previously, you could only create predictive audiences via the suggested-audiences library.
New Conversion Modelling in Google Analytics 4
Mid-August 2021
New conversion modelling in Google Analytics 4 helps fill the gaps brought about by regulatory and browser changes (including GDPR, ITP, the phasing out of Chrome's third-party cookie support, ATT, etc.) where observed data is unavailable.
All Google Analytics 4 properties started populating modeled conversions in core reports, including Event, Conversions, and Attribution reports, as well as in Explorations, where certain event-scoped dimensions are selected.
New Features for Google Analytics 4
5th October 2021
Google advises that marketers can now integrate GA4 with Google Search Console, plus Google introduce data-driven attribution – without minimum threshold requirements.
With Google's advanced modelling technology, the new Google Analytics allows you to fill gaps in your understanding of customer behaviour when cookies and other identifiers aren't available. New modelling capabilities include conversion modelling, to be used in attribution reports, the Conversions report and Explorations, and behavioural modelling is soon to be supported in reporting as well. 
Google Analytics 4 Integration With Display & Video 360
Mid-February 2022
Google announced the integration of Display & Video 360 with Google Analytics 4. GA4 users are now able to export audiences from GA to DV360 for targeting and export conversions from GA to DV360.
Google Analytics 4 Integration with Search Ads 360
Early March 2022
Google launched a Search Ads 360 integration for Google Analytics 4 properties. Users can now establish links between Google Analytics 4 properties and Search Ads 360 advertisers. This may help contextualise data to enable more efficient campaigns.
Autosuggest for Search in Google Analytics 4
6th April 2022
Google introduced a search box at the top of Google Analytics 4 that provides suggestions to help users find information. The auto-suggest feature will show useful queries as users type in Google Analytics 4, highlighting the suggested portion of the text.
Google Analytics 4 Updates Recently Viewed Section
Late June 2022
Google Analytics 4 updated the Recently Viewed section in Search. The section has been expanded to include links back to custom reports, Explore, Admin Page, Advertising Hub, and Configure. Previously the section only showed links to recently viewed standard reports.
Google Search Console Insights Now Supports Google Analytics 4
Early July 2022
Google added support for sites using Google Analytics 4 to show data in Google Search Console Insights, to provide a thorough overview of how people discover your content across the web.
New Dimensions and Metrics in Google Analytics 4
11th July 2022
Google Analytics 4 announced new dimensions and metrics, enabling users to see bounce rate, additional UTM parameter values, and conversion rate across various surfaces, including explorations, segments, audiences, reports, and the Google Analytics Data API.
Web Data Support for Google Ad Manager Integration
Mid-July 2022
Web data reporting in Google Analytics 4 is now supported through links established to Google Ad Manager publisher networks. With this addition, publishers will now be able to report on Google Ad Manager web and app ad monetisation in GA4 and will be able to report on GA4 behavioural data across the web and app in Google Ad Manager Analytics reports.
Updated Cookie Settings in Google Analytics 4
29th July 2022Google announced that users can now change cookie expiration and cookie update settings using the Google Analytics 4 interface. The new method of managing Analytics cookies is an alternative to editing global site tag code or using Google Tag Manager.
Need Help on GA4 Setup?
In Marketing We Trust is a Certified Google Marketing Platform Partner, just one of 20 companies in Australia certified by Google to implement Google Analytics 4. If you need help with Google Analytics 4, reach out to us for a free consultation.
Want more GA4 resources? Here: