When trying to optimise your website for search engines, it can be tempting to take shortcuts. You may want to try tactics that will speed up the process and help you start ranking higher faster. But shortcuts and black hat tactics like keyword stuffing won't help you; they may actually hurt you.
What is Keyword Stuffing?
Keyword stuffing is when a brand fills or "stuffs" a webpage with the same target term in hopes of ranking higher for that term in search engines. While not as popular as it was a few years ago, it's still used by some brands to try to boost their search visibility.
Types of visible keyword stuffing include:
Unnecessarily repeating words or phrases
Adding words that are out of context
Inserting blocks of the same keyword
Using keywords that are not relevant to the topic of the page
A keyword stuffing example would be a page that is trying to rank for the term "best laptop bag" and using the following copy:
"If you're looking for the best laptop bag, look no further. Our brand offers the best laptop bag that you could want for business or pleasure. With padding in our liners and a special pocket for your charger, this is the best laptop bag for travel or school."
In this example, the copy goes overboard with the use of the keyword. The term is used more than the suggested amount of times to match SEO best practices for keyword density.
What is Keyword Density?
Keyword density in SEO is the percentage of times a keyword is used in the copy.
Keyword Density = (Number of words in copy) / (Number of times keyword appears in copy)
In the example earlier, the keyword density is 11.75% (there are 47 words, and the keyword appears four times). This percentage is higher than the keyword stuffing percentage threshold. While there is no exact number for proper keyword density, it is a best practice to stick to a 2% keyword density.
There is also a type of keyword stuffing that isn't visible to audiences. This tactic stuffs terms and phrases in places that are hidden from readers. It includes:
Using text that is the same colour as the background (to hide words from readers but display them to search engine crawlers)
Repeating text in the page's code, meta tags, alt attributes, and comment tags
While both of these types of keyword stuffing may lead brands to think they can trick search engines into giving them higher search engine rankings, both tactics can actually lead to lower rankings for a website.
Strategies for Good Keyword Density
Since there is no clear, ideal keyword density described by search engines, you should stick to best practices for keyword optimisation rather than abide by an exact percentage of keyword density.
The best way to approach keyword density in your content is by using the following strategies.
1. Write for readers first – then focus on keyword use
Remember that the best content is created for readers first. Write naturally, and organically use the keyword in your copy. Create content that is high-quality, compelling, and valuable. Once you're done writing, go back and see if you can naturally add the keyword to reach a keyword density of around 1-2%.
2. Use keyword stemming to add variations of the target keyword
Keyword stemming refers to a search engine's ability to recognise and associate similar word forms connected to the target keyword. Usually, keyword stemming adds a prefix, suffix, or pluralisation to a target keyword. For example, stemming for the keyword project manager could be project managers or project managing. Because search engines recognise and associate these words, use them in your content to support your target keyword while adding textual variety to your copy.
3. Use semantic keywords to give context and support the target keyword
Semantic keywords are terms that are synonyms, variations, or contextually related to the target keyword. They are related not because of what the words are, but because of what they mean. For example, semantic keywords for the target term project manager might include project management or managing projects. Search engines use semantic SEO to understand and rank webpages, so find related keywords and use them in your copy to support your on-page SEO.
4. Avoid keyword stuffing
Once you complete your content, use an on-page SEO checklist to check your keyword density and other on-page SEO factors before you publish. Make sure you used the target keyword enough times to tell search engines what the page is about without engaging in keyword stuffing and putting your site at risk for search penalties.
Why is Keyword Stuffing Bad for Your Website?
After reading the keyword stuffing example above, you can see one of the most obvious reasons why this is a bad tactic. It creates an awful experience for users.
Website content should aim to educate, serve, and engage your readers. When you stuff your pages with keywords, you are unable to fulfill this purpose. You stop writing for readers and start writing for search engines. This creates a poor experience for your audience and will likely send users away from your page, increasing your bounce rates, and driving potential customers from your business.
While you may think filling your page with keywords will drive more people to your site, it could actually do the opposite.
Keyword stuffing is widely condemned by search engines, and the activity could lead to a search penalty.   In other words, if you fill your page with needless keywords, it won't improve your chances of ranking higher. It will decrease them. You could be hit with a Google penalty that removes your page from search engine results pages (SERPs) altogether.
So while it might be tempting to game the system, avoid stuffing pages with keywords. Instead, use the following best practices to optimise your pages for keywords the right way.
For the best chance of ranking, optimise for a keyword instead of stuffing it.
How to Optimise Keywords the Right Way
To help a webpage rank for a specific keyword, focus on "optimising" for the keyword instead of "stuffing" in the keyword.  Use the target term in all the right places. And, as Google's quality guidelines explain, "Focus on creating useful, information-rich content that uses keywords appropriately and in context."
Follow these 6 steps to promote a healthy keyword density:
1. Assign a primary keyword
To start SEO for a webpage, first choose one target keyword. The primary phrase should be relevant to the topic and closely tied to the content. The term should also be a popular, low-competition keyword to improve your chances of ranking on search pages for the term.
Once you use a target keyword on one webpage, don't assign it as a primary term for other pages on your site. Each page on your site that you want to rank in search should be assigned its own unique, target keyword.  This keeps your pages of content from competing against one another, and sends a clear message to search engines about what each piece of content is about.
Pro Tip: Use SEMrush's Keyword Magic Tool to perform keyword research before assigning a target keyword to a page. Enter a phrase related to your topic and use the report to choose a keyword. To find the best keywords, look for terms that are high volume (which indicates that users are searching for the term) and a Keyword Difficulty score you can compete with.

2. Write more than 600 words
To encourage search engines to rank a page for a target keyword, write 600 or more words of main body copy on the page. Search engines aim to provide users with the most relevant and helpful information available, and for many search terms they are more likely to rank your content if it is thorough and in-depth.
3. Use the appropriate primary keyword density in the copy
As you write, use your target keyword throughout the content. Don't overuse it, and only place the term where it feels natural and relevant. Keep your keyword density below 2% to stay within the guidelines for best SEO practices.
Pro Tip: If you use WordPress, monitor the keyword density of your posts by using the Yoast SEO Plugin. It's a keyword stuffing checker that tells you the density of your keyword usage so you can always be sure your copy is within the right range.  Once the page is published, you can also run the URL through Semrush's On-Page SEO Checker to get even more suggestions on how to improve the page for SEO purposes.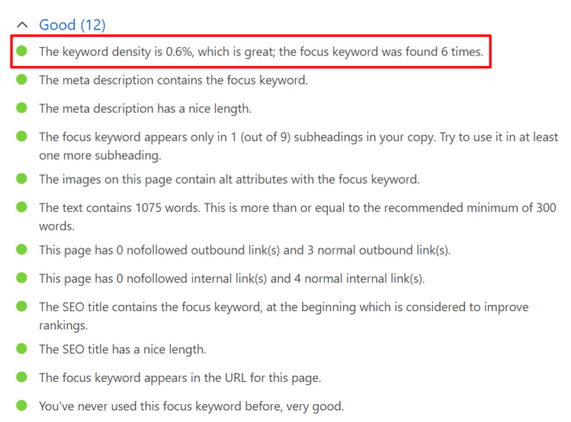 4. Add secondary keywords, synonyms, and long-tail keyword variations
Another way to tell search engines that your page is relevant to its primary keyword is by using secondary keywords on the page. Search engine crawlers use other terms and phrases on a page to get context to help them rank a page. So in your copy, use secondary keywords that are synonyms and long-tail versions of your primary target term to reinforce what your content is about and help crawlers rank your page.
Using long-tail variations of your keyword can also help search engines identify places in your content to answer questions, giving you the opportunity to have your content featured in Google's "people also ask" section.
Pro Tip: To find related keywords and long-tail keyword variations, use the Ahrefs to produce a detailed list of options. Also, search for your target keyword in Google and reference their list of related searches to find secondary keywords.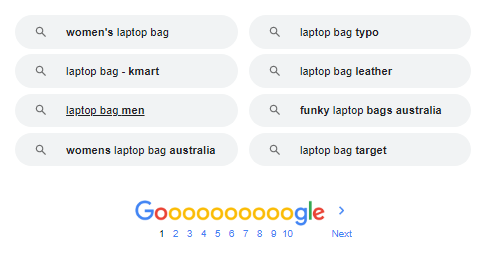 Another Pro Tip: Select keywords with an acceptable percentage of difficulty that your site can rank for. SEMrush defined keyword difficulty as a "metric that measures the effort it would take for your content to rank on the first page of Google". Basically, if a keyword has a high percentage of difficulty, it would require a lot of time, resources, and attention on your part to see results.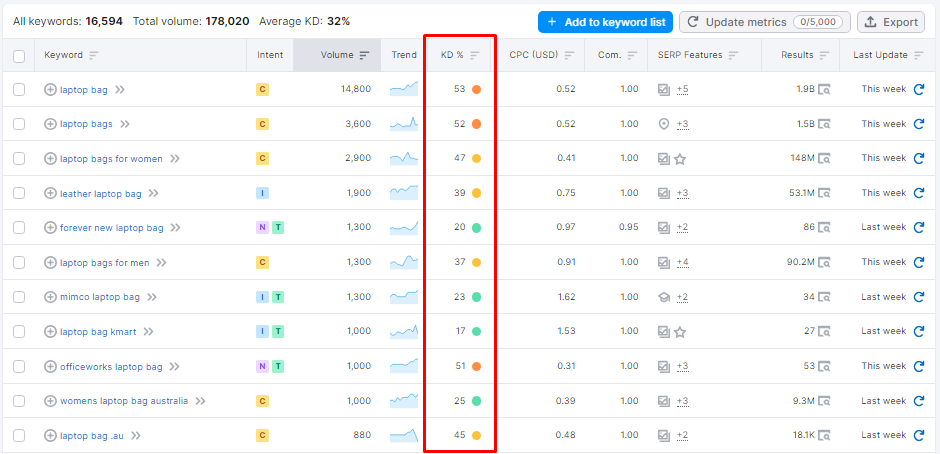 SEMrush calculate keyword's difficulty by looking at the authority of the pages currently ranking, quality of their backlinks (both follow/nofollow ratio), and other keyword-specific data. This is how the scores break down:
0-14: Very easy. These keywords may be good to target if you want to rank as soon as possible with the least amount of effort.
15-29: Easy. These are still relatively achievable, even if your domain is new.
30-49: Possible. For these keywords, you'll need quality content that's not only well optimised for your target keywords but is also very well organised, with good structure.
50-69: Difficult. In addition to producing quality, well-structured content and optimising it, you'll need some quality backlinks to win these keywords.
70-84: Hard. If you want to win these, you'll need to put in a lot of effort. You'll need more and better quality backlinks to support your content.
85-100: Very hard. The absolute hardest keywords to compete for. You'll need to put a lot of time and effort into SEO and content promotion.
5. Place keywords in the right page elements
When you optimise a page for a keyword, it's not just about where you place the target term in the main body content. It's also about how you use the keyword in other elements on the page. To fully optimise a page, use the keyword once in the following places:
Page title
At least one subheading
Title tag
Meta description
At least one image alt tag
First paragraph
Near the conclusion of the post
Unlike keyword stuffing, these simple keyword optimisation tactics send positive signals to search engines to get them to notice and rank your page for the intended term.
6. Check your On-page SEO
Even if you go through a checklist to create a keyword-optimised post, it's still easy to miss or overlook opportunities to make your page more appealing to search engines. So once you publish a page, always run a report to check on-page SEO and ensure that you don't miss any optimisation opportunities.
Pro Tip: Ensure that your pages are completely optimised for your target keyword by using Semrush's On-Page SEO Checker. Enter your page URL and target keyword, and run the report to get tips on how to optimise the page to get even more search traffic.
How to Optimise Keywords
When publishing a new post or page, you should always use keyword optimisation tactics that help search engines understand what the content is about and improve your page's chances of ranking.
1. Research Your Keyword
Finding the best keywords to use as the primary and secondary terms for each page must be the first step. You cannot optimise a web page before you have assigned it a target keyword, so the process of keyword optimisation actually starts with keyword research.

2. Follow This Keyword Optimisation Checklist
After picking primary and secondary keywords for your page, create your content and optimise your post. Use this checklist to make sure you use proper keyword optimisation techniques throughout the entire page.
Primary keyword is in the page title.
The primary keyword is near the beginning of the page title.
Primary keyword is in at least one subheading.
The primary keyword is in the first paragraph of the body copy.
Content is at least 600 words.
The primary keyword density is about 2%.
The primary keyword is near the end of the page.
Each secondary keyword is used at least one time.
The content uses semantic search phrases that solidify your topic and primary keyword.
The primary keyword is in the meta title.
The primary keyword is near the beginning of the meta title.
The meta title is unique and not a duplicate of other meta titles on your site.
The meta title is 60 characters, (600px) or less.
There is only one meta title tag assigned to the page.
The primary keyword is in the SEO meta description.
The primary keyword is near the beginning of the meta description.
The meta description is between 150 and 160 characters (960px).
Should include at least two images on the page.
The primary keyword is in an image alt tag on the page.
The primary keyword is in an image file name used on the page.
There are internal links to the page from pages on your site that are relevant to your topic and/or primary keyword.
Internal links lead from the page to other pages on your site using the linked page's target keyword.
There are outbound links on the page.
Outbound links lead to related content on high-quality sites.
3. Recheck Your Work
The best way to ensure you did not miss anything is by rechecking what you have done. Proofreading isn't a glamorous job, but it is necessary. Proofreading your final work can help you find and fix errors related to grammar, punctuation, spelling, capitalisation, and formatting. This ensures that your content is optimised and grammatically cohesive.
Improve Your Keyword Strategy — Improve Your Rankings
As you can see, it's not enough to pick an arbitrary keyword and repeat it over and over in your copy with the hope that you will start ranking on SERPs. You need research and strategy to optimise your content and give your pages what they need to rank above your competitors.
In Marketing We Trust is an expert in finding the best terms for your website. Get a free consultation today.