Building a robust Customer Data Platform (CDP) has become essential for any digital business wishing to create a single customer view of website and app users. Google's revamped GA4 solution is the ideal CDP platform for your company and in this blog post we will help you understand how to implement and configure GA4 + BigQuery as a powerful CDP solution. 
CDPs allow marketers to gather and analyse behavioural, demographic and transactional data and help to avoid data silos. They also enable the activation and segmentation of customer data across multiple marketing channels.
GA4 + BigQuery = CDP
BigQuery is Google's fully managed enterprise data warehouse. Using it to store your customer data and connecting it with GA4 means you will have a powerful CDP at your fingertips. If you're unsure about how to set up GA4 and how to connect it with BigQuery feel free to contact the data specialists here at In Marketing We Trust and we can talk you through it – or take care of it for you.
You can manage and analyse your customer data effectively through GA4 BigQuery with built-in features such as BI (Business Intelligence), ML (Machine Learning) and geospatial analysis. 
Configuring your GA4 account correctly and connecting it with BigQuery's serverless architecture allows you to use specific queries to answer your company's biggest questions about your website visitors and app users.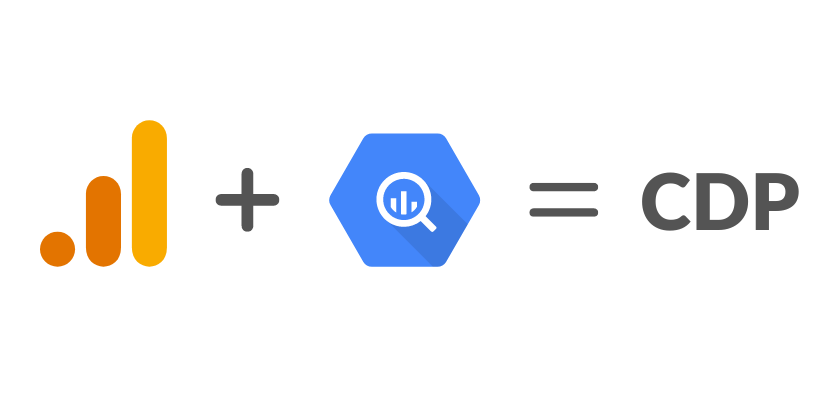 A GA4 BigQuery powered CDP will provide sophisticated personalisation functionalities, which enables businesses to speak to their customers with relevant, tailored messaging.
The introduction of Google Analytics 4 has completely renewed the approach to digital analytics for many businesses. GA4 is a disruptive and game-changing update to analytics from Google as opposed to a gradual update from Universal Analytics after more than a decade of Urchin-developed solutions.
GA4 is a user-centric measurement solution which gives marketers greater insights into site visitor and customer behaviour than ever before, providing detailed user tracking whilst also allowing businesses to fully comply with tightening privacy regulations globally. This new version of Google Analytics is also the perfect platform on which to build a customised CDP for your company, rather than relying on additional third-party solutions.
GA4 BigQuery setup
Build reporting capabilities for Google Analytics data using BigQuery. 
Build a Google Analytics to Bigquery E.T.L. (Extract, Transform and Load process)
Export your historical data from Universal Analytics
Transform Univeral Analytics data to map with GA4 data
Load the Universal Analytics data into Bigquery
Configure the GA4 integration with Bigquery
Transform & map UA and GA4 data to enable reporting
Design and implement reports and dashboards using Google Analytics data (UA+GA4)
Train your team on BigQuery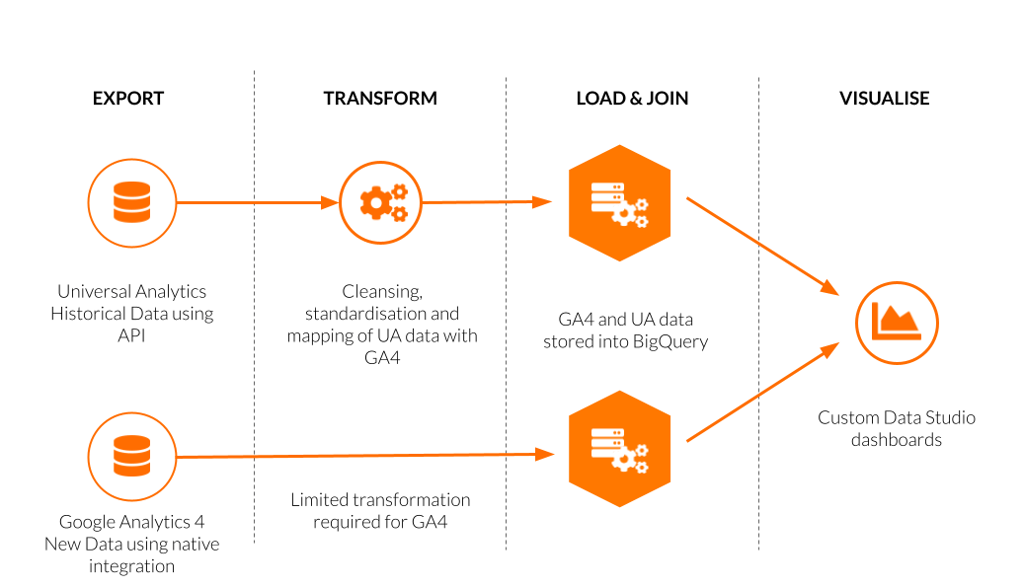 GA4 is built for integration
GA4's native integration puts data at the heart of marketing.
Collect data from multiple sources
Standardise data format
Centralise data storage
Enhance and augment data
Multi-channel activation
Enhanced analysis and reporting

Google Signals provides accurate user mapping
GA4 uses data from Google Signals to provide a single customer view across website and app properties and multiple devices. Given the reach and universal presence of Google in most international markets the accuracy and reliability of user mapping through the identity graph of Google Signals is arguably the best of the available solutions.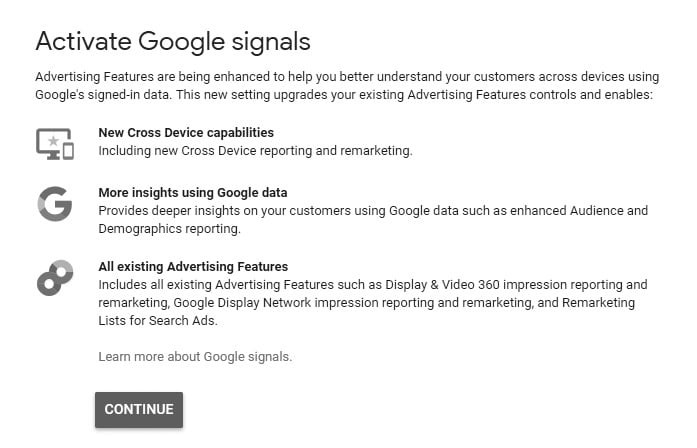 By stitching together historical non-logged-in user data with authenticated user data, GA4 enables the option to pass insightful custom user IDs, as with previous versions of Google Analytics. This helps marketers to map transactional and Personal Identifiable Information (PII) records for users, even if this is carried out in an encrypted manner in order to meet user privacy laws.
Detailed event level user records free of charge
As opposed to previous versions of Google Analytics, GA4 provides highly granular event level user logs at no cost, so the significant fees for the paid versions of GA and GA360 can now be avoided. Up to the limit of 10Gb of monthly storage linking BigQuery data to GA4 is free of charge, which translates to approximately five million event records per month for most apps and websites.
Using event level user logs marketers can access behavioural data which allows audience segmentation and provides information which can feed bespoke machine learning models to personalise user experience. 
Make the most of GA4 BigQuery's enhanced functionality
Given how many businesses are already using Google Analytics and how many are migrating to GA4 it is worthwhile putting in the groundwork during the implementation stage of the updated package from Google to get the most out of it. Most eCommerce businesses or companies using their website for marketing are reliant on Google Analytics so setting up GA4 BigQuery correctly as a CDP and personalisation engine eliminates the requirement for other – potentially expensive – third-party tools. 
An initial rigorous tag implementation effort on GA4 will enable your analytics and segmentation functionality at the same time. This way you do not have to custom tag your website or significantly alter the mobile SDK in order to integrate a complex third-party CDP. In short, GA4 + BigQuery is equipped to do the job as a CDP, so make the most of it.
Total ownership of user data in the GA4 BigQuery cloud
As one of just 20 Certified Google Marketing Platform Partners in Australia we can implement GA4 smartly and efficiently for your business, to give you complete ownership of your user data in the cloud-based BigQuery ecosystem. Your user data can then be merged with relevant CRM and transactional data using User ID attribution for authenticated visitors within the BigQuery environment. Retailers and marketers can take maximum advantage of that proprietary data to create custom transactional and behavioural models based on Machine Learning.
Integrate BigQuery with your activation channels
Perhaps the most important feature of GA4 as a customer data platform is the ease with which you can custom integrate Google's BigQuery data warehouse with your activation channels.
BigQuery enables Life Time Value modelling, conversion propensity models and recommendation engines, which are powerful tools, providing insights for improving customer experience, acquisition and retention.
Utilising GA4 data from BigQuery generates dynamic audiences for targeted email campaigns, remarketing, A/B testing, programmatic media, special offers and localised advertising.
You can take maximum advantage of this user modelling by integrating BigQuery with your preferred activation channels, such as Salesforce, Google Display Network, Google Ads, Facebook, YouTube, MailChimp, HubSpot and many more.