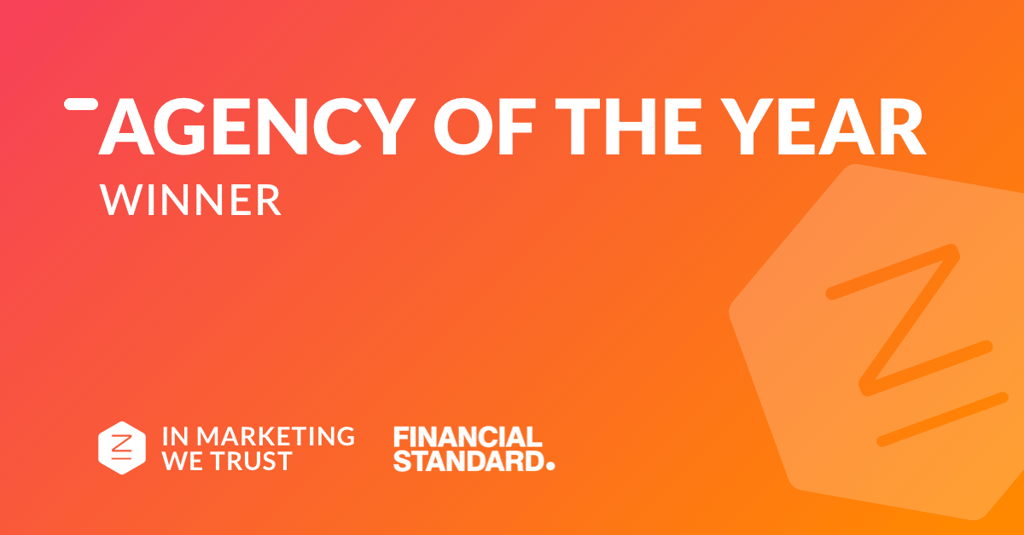 We're thrilled to announce we have been crowned Agency of the Year by Financial Standard.
This represents a significant milestone for us. While we have always had a number of strong and successful relationships across the financial industry, we emerged out of the travel sector. As such, it has been a challenging 18 months with the pandemic impacting nearly 70% of revenue.
We quickly responded to changes in the market and looked outside of travel to focus on other areas we had experience in, a key market being finance. In just 12 months we had our biggest year of sales yet, recovering the lost revenue from travel clients. Winning the MAX Award for Agency of the Year highlights that our approach to data-driven marketing is a big hit for financial services marketers.
"We're thrilled to be crowned Financial Standard Agency of the Year. We've held a number of long and successful relationships with customers across the finance industry helping them achieve growth through advanced digital marketing. COVID gave us the opportunity to lean into the finance industry and we've found we're a great fit for finance brands which require data-driven performance marketing with high service levels."
– Paul Hewett, Commercial Director, In Marketing We Trust.
According to the Financial Standard, "Now in its 26th year running, the MAX Awards recognises industry excellence in marketing, advertising and sales in financial services. Past winners have gone on to lead organisations, spearhead product innovation and help improve the nation's financial literacy through educational programs geared towards financial advisers and their clients.
"The MAX (Marketing, Advertising and Sales Excellence) Awards recognises these leading individuals, teams and organisations in the Australian financial services industry who have achieved excellence in marketing, advertising and sales."
There were a record 17,000+ votes across all 22 categories this year as the MAX Awards becomes more and more competitive. Christopher Page, managing director of Rainmaker Group, publisher of Financial Standard, said:
"It is exciting to celebrate the successes of financial services' leading marketers, advertisers and sales professionals, especially in a time where a lot more time, effort and creativity needs to be put through to not just thrive but excel."
Our clients agree. The past year has been a challenge across the board and not just for the financial services industry, with agencies scrambling to pivot to keep clients happy in a volatile market.
"When COVID-19 hit we realised just how lucky we were to be partnering with In Marketing We Trust – as their team is located around the globe their processes for remote working were already in place, so there was no disruption to our project. This allowed us to continue to focus on results, even when the rest of the world felt chaotic."
– Jordan Kerr, Content and Conversation Manager, Integrity Life.
Financial Standard's executive director – media, Michelle Baltazar said: "The past 12 months has been exceptionally challenging for sales and marketing teams, as they needed to re-evaluate their strategies and find new ways to best meet the needs of their clients. We believe our award winners and finalists rose to the challenge and are deserving of the recognition at our Max awards this year."
We congratulate all of this year's winners and nominees and sincerely thank and appreciate all of our amazing clients and contacts who voted for us.