At In Marketing We Trust, our most anticipated event is TrustED Conf. This year, it took a gleaming twist with the debut of The Trusties Awards.
The Essence of the Awards
At In Marketing We Trust, orange is more than a colour; it's a representation of our flair to decipher intricate data into actionable marketing strategies. That's why the top award is called the "Bleed Orange" award. We also have the Future Thinker Award and the Every Day Hero.
Meet the Winners
Bleed Orange Award – Andrei Inso
Andrei, our backstage hero, clinched the "Bleed Orange" accolade. His nominations overflow with admiration and respect, a testament to his unwavering dedication to In Marketing We Trust. Winning wasn't on his radar, but when his name echoed in the hall, his genuine astonishment resonated with everyone. It's safe to say, we can't imagine In Marketing We Trust without him.
Andrei's unexpected win made him reflect on his harsh self-assessment. The love and appreciation from his peers redefined his perception of his contributions,"this teaches me to also be more kind to myself. I'm in good company, for sure.".
Future Thinker – River Kim
River, the embodiment of progress and creativity, grabbed the "Future Thinker" title. The accolades from colleagues showcased her unwavering commitment to innovation and her role in propelling In Marketing We Trust to greater heights. Her humility shone through as she dedicated the win to her entire SEO team.
Every Day Hero – Riccardo Fumagalli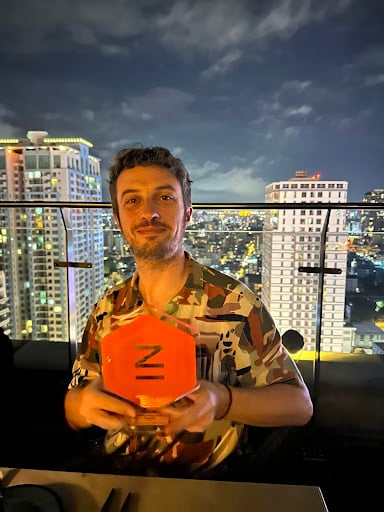 Finally, the spotlight shone on Riccardo, our silent sentinel, with the "Every Day Hero" badge. His quiet endeavours have been the backbone of numerous projects. "He's been a saviour in one of the projects he's been involved in by working on multiple fronts.".
At In Marketing We Trust, our awards are not mere tokens but deep-rooted symbols of our team's dedication, camaraderie, and excellence. While we laud Andrei, River, and Riccardo this year, it's clear that every member is a star, keeping the orange flame burning bright. To more years of innovation, dedication, and of course, bleeding orange!