Creating GA4 Alerts in Google Analytics 4 is considered best practice for marketers and can provide timely, vital insights to make a real commercial difference to your business.
What are GA4 alerts and what you can use them for?
When you set up GA4 Custom Alerts you get an email when the specified act occurs on your website or app. This could be a significant increase or decrease in traffic, a certain trend in user actions, or conversions being captured. Alerts can also show a significant shift in terms of traffic numbers from a key market such as Australia or the US, or perhaps a noticeable drop in organic traffic.
GA4 custom alerts are essentially notifications sent to you by email based on changes in custom insights of which you can define the parameters in your Google Analytics 4 account.
In UA (Universal Analytics) properties – which are being phased out by Google – these notifications were referred to as custom alerts. In Google Analytics 4 the notifications are referred to as insights. GA4 offers some standard automated pre-set insights and also allows you to create your custom insights to work in a similar way to UA custom alerts.
If you have not yet migrated from UA to Google Analytics 4 you should do so now. As a Certified Google Marketing Platform Partner, In Marketing We Trust is one of just 20 companies in Australia certified by Google to implement your new Google Analytics 4 solution. Book a free consultation with us today if you need help with GA4.
We can also help with advising you on which custom insights you should be receiving via GA4 custom alerts.
How do I set up GA4 Alerts?
When you are logged in to your Google Analytics 4 account on the default homepage there are a number of tiles which relate to performance.
Go to the Insights tile and then at the bottom of that tile you can click on the 'View all insights' hyperlink: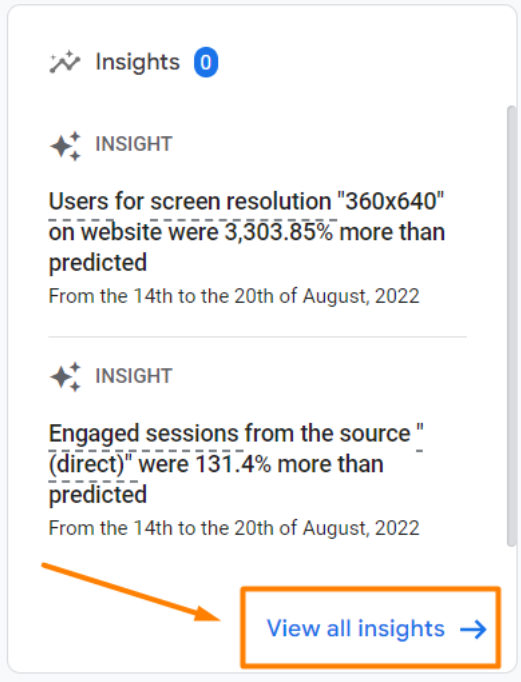 You will next be shown all the default insights that have been pre-built by GA4 relating to your website or app and it is worth reviewing these to see if they are helpful to you.
What should I use GA4 Alerts for?
Before you create additional GA4 Custom Alerts you should think about exactly what you want to be notified about. This would typically be a sudden drop or lift in conversions, traffic, user signups, logins or a big increase in traffic from a specific source or market, such as referral traffic or site visits from users in a specific country. 
These alerts can warn you if there are issues with your website performance, for example if the site goes completely offline or is suddenly loading much slower. Perhaps the % of Android users vs iOS users on your app unexpectedly increases, so maybe there's something wrong with the iOS app.
Good or bad – you want to know what's happening
Equally GA4 Alerts can be based on insights highlighting things happening, such as your site getting an unexpected wave of new traffic, a discount code working particularly well driving more sales, a technical enhancement being deployed to hike your conversion rate or a positive review in the media delivering an increase in converting traffic.
Looking at the wider picture you could write down the main negative or positive eventualities you think could occur with your site or app. Then you can figure out which data points will be the relevant key indicators you need to be alerted to when something is going either badly or well. You can then create the relevant custom GA4 alert based on those insights.
Suggested Custom Insights vs Creating your own from scratch
You'll be able to see if your key performance indicators will be covered by GA4's suggested Custom Insights section and if so you can use them by selecting 'review and create' as seen here: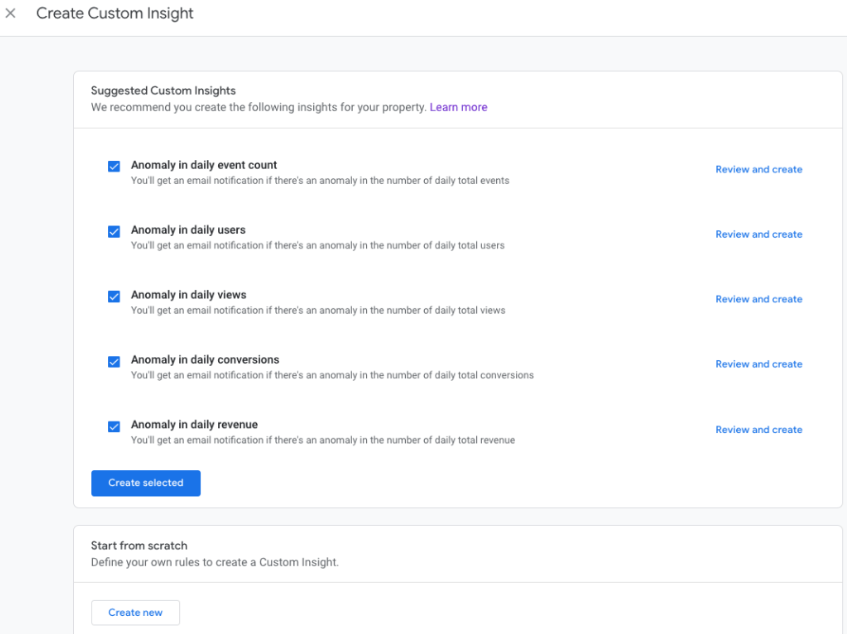 You may, however, wish to create your own unique custom insight alerts for which you define all the parameters. Do this by clicking 'Create new' from the 'Start from scratch' section as shown above. 
The next step will be to set the evaluation frequency, choosing between hourly, daily, weekly or monthly in terms of how regularly you want GA4 to check against this insight, as shown here: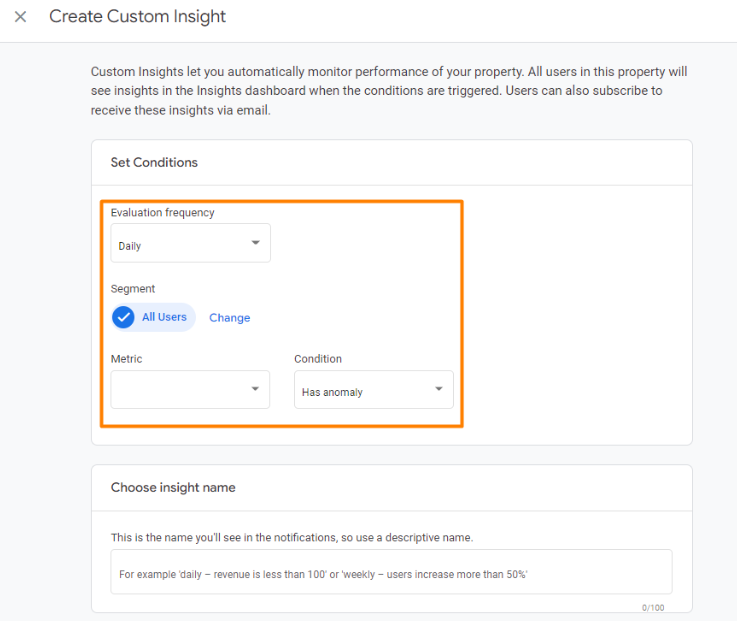 You may also want to add a segment, to make the custom insight alert relate only to a specific segment of your audience, such as Australia-based users, iOS users, or organic search traffic. By clicking on the 'Change' button, as shown above, a slide out box will open. This is where you can define those audience segments, as shown below. Once you've defined your audience segment click apply. 
The next step is defining the metrics of the custom insight for the alert. If you want to know about an increase in traffic, you'd choose Sessions as the metric. When you set the condition, this will be either as an anomaly to the normal data for that metric or a condition you define yourself. For example, your number of Sessions 'is less than or equal to' 1,000 for a specific period.
You can also define the condition by a % change, for example, if you want to be alerted when the number of transactions in a specific time frame is a specified % above or below the number of transactions from a previous defined period. 
Naming your GA4 Alerts properly
The penultimate step is to name your custom insight alert, ensuring that it is descriptive enough to be informative to you and your colleagues if it actually triggers a relevant email in the days, weeks, months, or even years ahead.
You'd obviously want to avoid names such as 'Alert A' or 'New alert'. So a name like 'Site traffic up more than 10% on previous month', or 'Android users more than 75% on app' would be informative and clear. 
The final step is to enter the valid email address (or addresses) for the GA4 alerts to be sent to when something important is happening on your website or app. 
Need Help on GA4 Setup?
In Marketing We Trust is a Certified Google Marketing Platform Partner, just one of 20 companies in Australia certified by Google to implement Google Analytics 4. If you have any doubts, queries, or questions about GA4 customer alerts or any matter relating to Google Analytics 4, reach out to us for a free consultation and one of our data experts will respond to you with all the information you need.
Want more GA4 resources? Here: