As one of the most important developments from Google in recent years, the introduction of GA4 is significantly changing the way online businesses analyse and manage data on customer behaviour. But what are the main Google Analytics 4 benefits when it comes to using the new solution?
In this article, we'll outline the main benefits of Google Analytics 4, whilst also answering the question 'Is GA4 better than universal analytics?'. We'll also examine key GA4 features and underline why updating to GA4 could help your business if you've not made the transition already.
For many agencies and digital marketers, GA4 is a new technology and it can be a daunting prospect to implement and configure it correctly. But as a Certified Google Marketing Platform Partner, In Marketing We Trust is amongst a group of just 20 companies in Australia certified by Google to implement your new Google Analytics 4 solution.
In fact, we've already transitioned more than 50 of our clients from Universal Analytics to GA4, highlighting to them along the way how they can make the most of Google Analytics 4's benefits.
Google Analytics 4 Benefits – the overview
Designed to keep pace with the modern customer data landscape, GA4 gives businesses greater insights into the increasingly complex, multi-platform journeys of their customers – while simultaneously prioritising user privacy. GA4 provides sharper insights and a closer relationship with AI, therefore maximising every customer touchpoint.
One of the most important Google Analytics 4 Benefits is that BigQuery can be integrated with GA4 for free. Having previously only been available to paying GA360 users, BigQuery is a powerful data warehouse that enables rapid SQL query processing.

GA4 + BigQuery = a powerful CDP solution
Using BigQuery to store your customer data and connecting it with your GA4 account puts a powerful CDP (Customer Data Platform) at your fingertips. A GA4 + BigQuery-enabled CDP provides enhanced personalisation functionalities, which allow marketers to communicate with their customers via relevant, tailored campaigns, as we explain in more detail here.
Furthermore, in standard GA4 reports sampling has been removed and unlimited data can be collected. Access to this limitless unsampled data in GA4 ensures that you can base business decisions and marketing campaigns on more reliable data.
Enhanced engagement metrics
Another set of Google Analytics 4 advantages are the enhanced engagement metrics it measures. Moving beyond bounce rate or % of site visitors leaving a page without interacting, GA4 gives you greater data on user engagement. It highlights events such as site search, scrolling, video consumption and downloads, so you can see in detail how your customers and leads interact with your content.

Greater cross-platform tracking
Google Analytics 4 now also merges data from across your apps and websites, providing greater cross-platform tracking, giving you a complete view of user engagement throughout your platforms.
In the new 'Life Cycle' section of GA4, you have reports on Acquisition, Engagement, Monetisation and Retention, giving you greater insight than ever into the complete customer journey. That means you can focus on where customers are hitting obstacles and you can adjust your approach accordingly.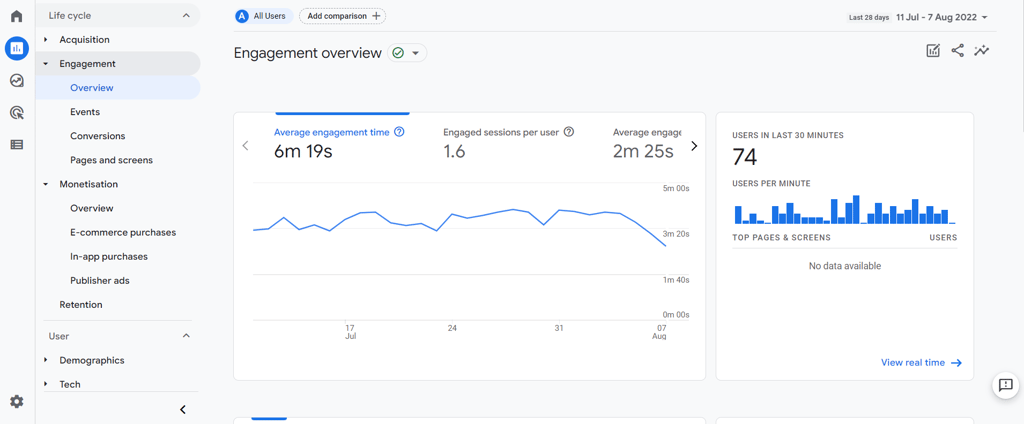 Advanced analysis tool
In addition to this more intelligent and enhanced tracking, an Advanced analysis tool features in the GA4 interface. Having previously only been available to paying GA360 users, GA4 has a free set of advanced analysis tools. From there you can identify the most popular paths taken by your app and website users, and then build ad hoc sales funnels.
Predictive metrics
Lastly, perhaps amongst the most powerful Google Analytics 4 Benefits are the predictive metrics it provides. These predictive metrics are purchase probability, churn probability and revenue prediction.
Purchase probability predicts the likelihood that a user active in the last 28 days would make a purchase within the coming 7 days, whereas churn probability calculates the probability that a user active within the last 7 days will be inactive in the coming 7 days. Meanwhile, GA4's revenue prediction modelling gives you figures for expected revenue in the next 28 days from users active over the last 28 days. 
As Google specify in this article on GA4 Predictive metrics, 'In the last 28 days, over a seven-day period, at least 1,000 returning users must have triggered the relevant predictive condition (purchase or churn) and at least 1,000 returning users must not', in order for Google to generate the predictive metrics data. Also, the analytics team at In Marketing We Trust recommend only using these predictive metrics once we have tested and validated whether they are relevant and insightful to your business case.
This allows you to make really precise marketing decisions and create highly targeted marketing campaigns, at just the right time, to just the right audience.
GA4 Features
There are several powerful GA4 features which have been built to provide advantages over Universal Analytics as outlined above. GA4 has the tools to improve every metric, from traffic to lifetime value.
At the same time, it has more intelligent and intuitive user privacy and tracking features. It also features simplified goals and events setup tools.
Simplified conversion tracking
You can create and track up to 500 events in GA4 and simplified conversion tracking in Google Analytics 4 also lets you create and track up to 30 conversion types.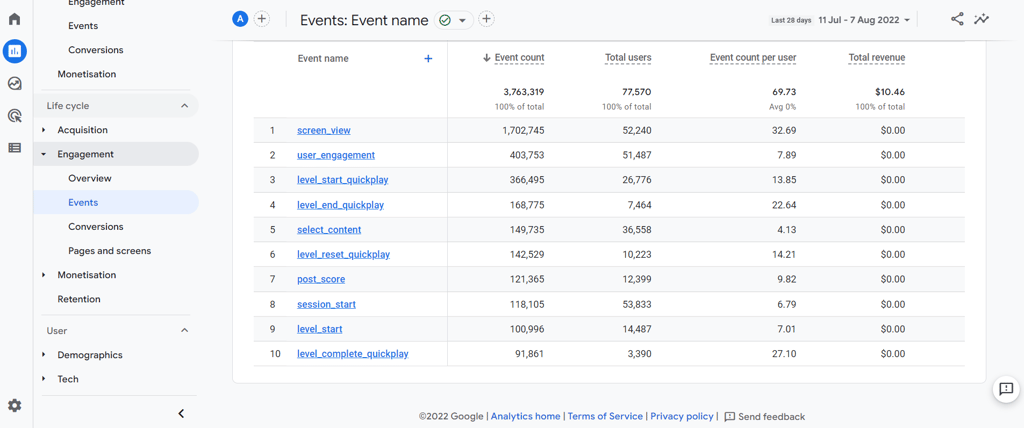 Further Google Analytics 4 features also include ad platform and Salesforce sync ups, enabling you to personalise and automate your messaging to potential customers. The new audience builder feature lets you easily create audience segments, whilst predictive analysis can be game-changing when it comes to campaign budget planning.
Enhanced reporting
Enhanced reporting allows you to substitute standardised, off-the-shelf reports with deeper, customised insights. The enhanced reporting includes new pathing reports, new realtime reports, new Cross-Platform reports and other new custom reports.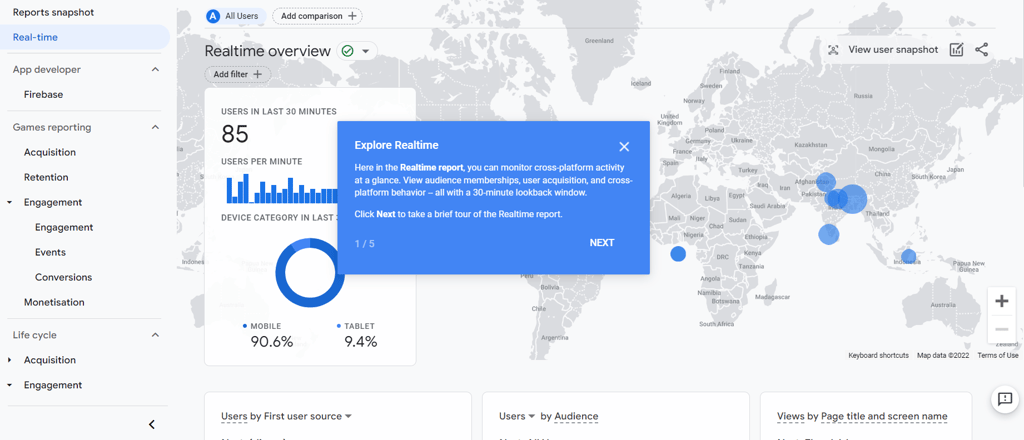 Updated anomaly detection and enhanced debugging features also help to improve data collection and analysis.
Is GA4 Better than Universal Analytics?
GA4's advantages over UA are numerous, as you would expect given that the new solution is the biggest update from Google in analytics for several years.
Google Analytics 4 offers marketers an enhanced cross-channel view of their customer via an event-based data model, whereas Universal Analytics' data model is session-based and less comprehensive.
Built for a cookieless future
GA4 is also built with ever stricter privacy rules and a cookie-less future in mind, making it a more suitable package in the era of GDPR (General Data Protection Regulation) and CCPA (California Consumer Privacy Act).
Meanwhile, there are specific limitations to the amount of data that can be collected in Universal Analytics, for example, 10 monthly million hits per property, 200,000 per users per day and 500 hits per session. This means UA relies heavily on sampling and in order to track events such as scrolls, site search, video engagement and file downloads heavy custom coding is required with UA. None of that applies to GA4.
Fake Data Prevention
In addition, Google has made GA4 far more robust when it comes to Fake Data Prevention. It is relatively straightforward for spammers to populate a UA property with fake data via the Measurement Protocol. This is almost impossible now in GA4 as the system forces Measurement Protocol hits to include a secret key which is not available publicly and is only visible in GA4 web data stream settings. Only hits including this valid, secret key are able to send data to a GA4 property, meaning fake data is avoided.
Also, it is worth remembering that GA 360 features you would pay to use in UA, such as customisable funnels and the integration with BigQuery, are free with Google Analytics 4.
GA4 Pros and Cons
Overall, with enhanced measurement features and custom reporting GA4 gives you a more complete cross-device, cross-platform view of how your customers interact with your brand. The new GA4 features which employ machine learning models can improve your marketing ROI.
The benefits of GA4 are numerous
Ultimately, the benefits of GA4 are that it offers better user insight, provides new engagement metrics and advanced analytics and is more suited to ever-tightening privacy regulations. GA4 benefits from closer alignment to and easier integrations with other tools and platforms, meaning that you no longer need to be struggling with multiple applications at once and can efficiently do a greater amount of tasks within GA4.
The only drawbacks with GA4 are that it takes knowledge and time to set up correctly for your business and your team needs to learn how to maximise their use of the platform. GA4 has more customisable features and fewer standard reporting options, as was the case with UA.

Playing around with GA4 and merely dabbling with the new tool you'll find it hard to see its true value because a customised set-up is a job for Google-certified experts.
As a certified Google Marketing Platform Partner, In Marketing We Trust have the experience and expertise to migrate your business from UA to GA4, implement your new GA4 solution efficiently and provide the training needed to turn your team into GA4 maestros.
Why Upgrade to GA4?
Upgrading to GA4 is a simple, logical business decision given all the Google Analytics 4 features and advantages set out above. Also, time is running out with Universal Analytics as it will cease to function at the beginning of July 2023.
Those who ignore the end of UA will lose 100% of their data when it goes offline next year.
Delaying the transition will also make your business slower to prosper as GA4 needs to "learn" your business with a year's worth of lead-in data.
Upgrade to GA4 now if you want to future-proof your digital analytics. Get ready to thrive with the enhanced metrics and insights, whilst your competitors stumble in the dark, relying on outdated tech and guesswork.