Google defined Performance Max as "a new way to buy Google ads" when it was first announced in October of 2020. Performance Max is a new goal-based campaign type that allows performance advertisers to access all of their Google Ads inventory from a single campaign. 
Performance Max is designed to complement keyword-based Search campaigns to help users find more converting customers across all of Google's channels like YouTube, Display, Search, Discover, Gmail, and Maps.
"If change is the challenge, automation is the solution businesses and agencies are using to stay ahead of ongoing shifts in consumer demand…"
"It's the next generation of Smart Shopping and Local campaigns, which will both upgrade to Performance Max in 2022…"
-Eduardo Indacochea, Senior Director, Product Management
AI: It's A Focus for Google
In July 2022, Mumbrella reported that Google has begun hiring Australian researchers for its new Sydney research hub that aims to advance AI and use it to tackle important challenges for Australians and people around the world and partner with the local research community.
Dr Grace Chung, one of Google's most experienced Australian engineers and research scientists, and Professor Peter Bartlett, an award-winning research scientist have been appointed to lead Google Research Australia.
How do Performance Max Campaigns Work?
Performance Max Campaigns essentially takes responsive ads and smart campaigns to the next level by combining these features all in one place. In order to run them, you need to provide Google with the following:
Marketing objectives and goals

Budget

Creative assets (text, images, video)

Geo-targets

Feeds (optional) eg Google My Business; Google; Merchant Center; Dynamic Ads feed; Business data feeds

Audience signals (optional) eg First-party Audiences (lists); Google Audiences (manually targeted); Affinity etc
Performance Max: One Campaign Can Reach All These Channels
Performance Max is a new campaign type in Google Ads where you can define a goal and provide all of the assets and 'audience signal' information to help guide your advertising. Google will then auto-generate ads that can serve across all of its available placements.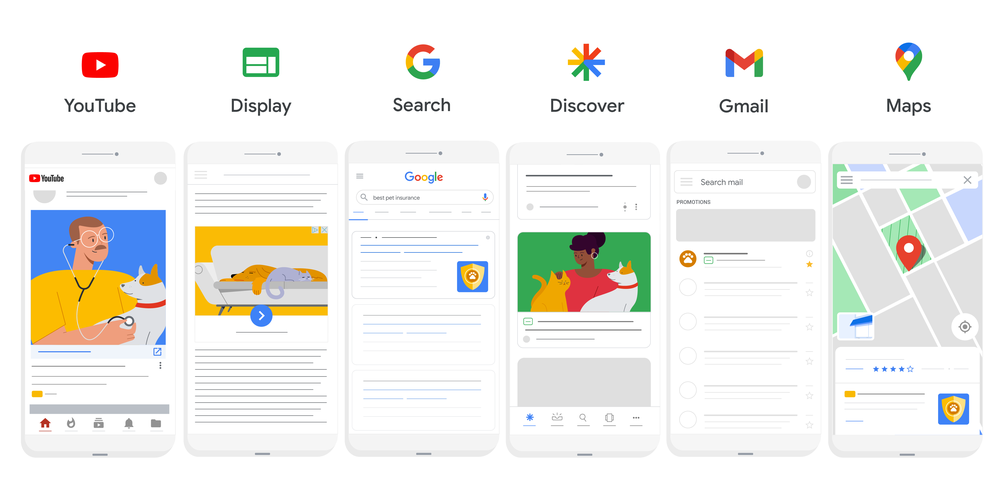 This means that you can run Campaigns on Search, Maps, Display, YouTube, Gmail, and Discovery networks all from a single campaign.
Performance Max: Structure
The setup hierarchy for PMax campaigns are slightly different to the setup of Search or Display campaigns (eg there are no Ad Groups)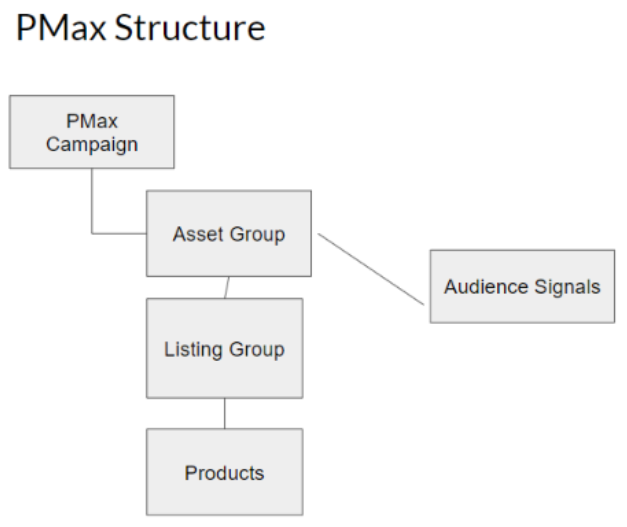 Performance Max: Asset Group
Up to 5 Headlines can be written (maximum of 30 characters)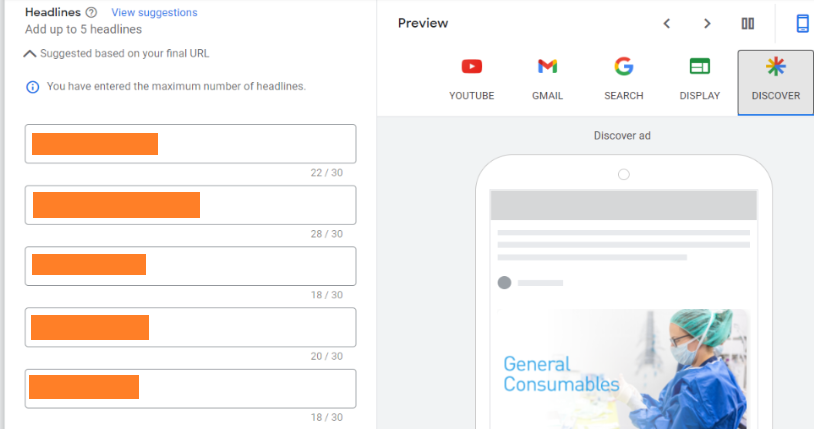 These need to make sense separately and together (Google will choose how they're shown, in what order or combination)
Up To 5 x Long Headlines (maximum of 90 characters)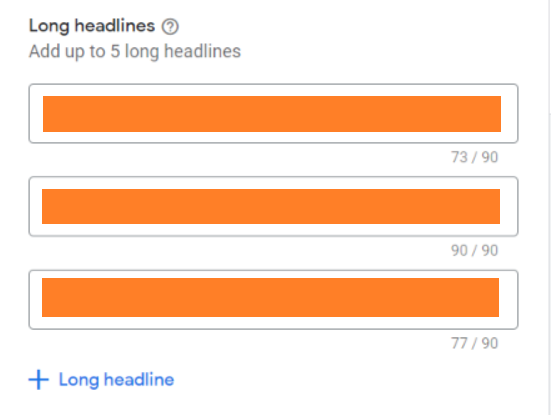 5 x Descriptions, CTA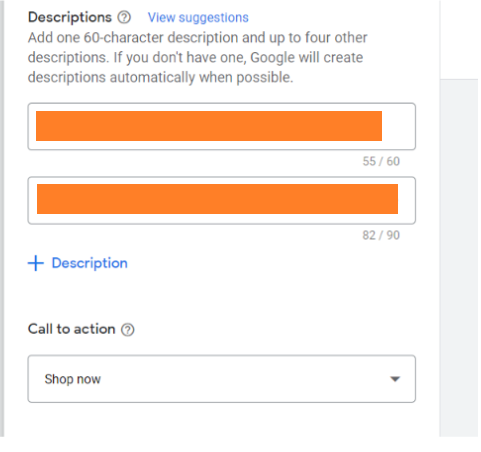 Up to 5 x Descriptions can be written (maximum of 90 characters) and a call to ation such as 'Learn more', 'Get quote' or 'Subscribe'.
Up to 20 Images, 5 Logos, and 5 Videos can be uploaded into the asset group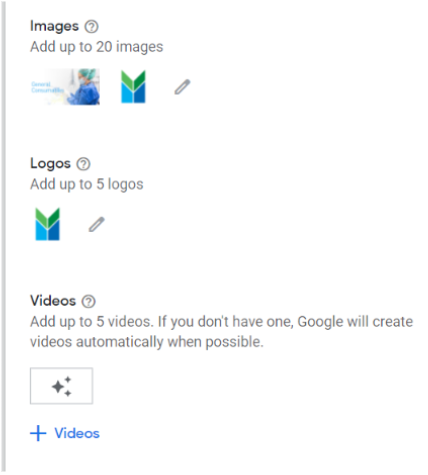 Audience Signals
Important to note: these are not Audience Targets, they are Audience Suggestions

Audience Signals are a new feature, unique to PMax campaigns

They're meant to only "jumpstart" the PMax campaigns at the start
Other options: customer lists; website remarketing; life events
Example #1: Medical Supplies & Equipment Company
Old Smart Shopping Campaigns (March 2022 – April 2022):

New PMax Campaigns (1 May 2022 – 30 June 2022):

With the Performance Max campaign, cost/conversion has halved with a high conversion rate of almost over 9%.
Example #2: Wine Auction Company
Previous Shopping Campaigns:  1 April 2021 – 30 June 2021

Auction confirmations: 543

Revenue: $45,000 (similar spend)
New Performance Max Campaigns:  1 April 2022 – 30 June 2022

Auction confirmations: 1388

Revenue: $65,000 (similar spend)
Performance Max Campaigns has outperformed shopping. Better ROAS; more auction confirmations
Shopping campaigns were split by alcohol type i.e. red wine. Performance Max, on the other hand, has a new structure, where the campaigns are split by product price, rather than type. This allows us to allocate budget to higher-priced items and capture higher-value customers.
Performance Max Campaigns – Too Much AI?
There has been a lot of talk on PPC social channels about Performance Max. Some of the most common complaints about Performance Max have mentioned: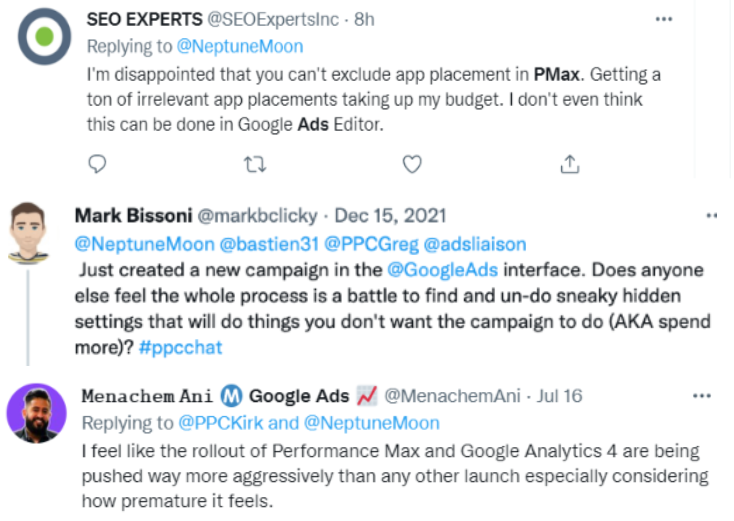 Less visibility

Less data

Lack of reporting

Less control/levers

Hidden settings

If the campaign tanks, it's hard to know why
There's also a lot of positive feedback to Performance Max Campaigns.

Did Google Rush PMax Launch?
Mid-July update: Google is now planning to give marketers (a bit) more control & transparency over PMax campaigns.
Performance Max features to be released/or has just recently: