Are you ready to give us access to Google Ads to increase conversions and get maximum results on your ad spend? Great! So are we. 
As a leading Google Ads Partner we get better results with lower CPCs and higher conversions.
Learn more about growing with paid search here.
Don't worry about sharing your login details with us. Below we outline how to add us to Google Ads safely and easily.
How to Add Your Agency to Google Ads
With a Manager Account, all our Paid Search Experts will be able to access your account without you having to grant access to us one user at a time. You will need to provide us with your Google Ads account number (a 10 digit number separated by 2 hyphens). 
Your Google Ads account number will look something like this:
123-456-7899
How do I find my Google Ads account number?
1. Login to ads.google.com
2. Select the appropriate property in the dropdown (if you have multiple properties)
3. Record the 10 digit account number next to your Google Ads account name
4. Send an email to your Account Manager at In Marketing We Trust with your Google Ads account number.
We will then request access to your account and you will be notified.
If you don't already have an Account Manager, get in contact with us today to find out how we can help with your paid strategy.
Once we've requested access:
1. Sign in to to your Google Ads account
2. Click on Tools & Settings

3. Click on Account access under the Settings menu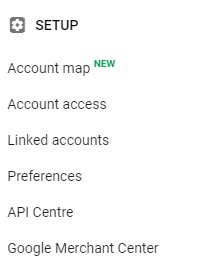 4. Accept our request
Now we're all set to start managing and improving your paid campaigns.
To find out how to add your agency to your other marketing tools and best practices on protecting your company, visit our access page for more information.