This month we launched our Google Marketing Platform Singapore meetup. The event was a huge success and we will continue to host events on Google Marketing Platform tools every third Thursday of the month in Singapore. We started with the latest Google Search & Tool Updates, followed by a presentation by our resident Analytics and Google expert, Benoit Weber, on Google marketing tools.
Google Marketing Tools: Ultimate Guide
Google marketing tools enable you to interact with your users at different stages along their customer journey.
Agenda
We will provide a brief overview of each of the tools, what they do and for each of the products, we will provide an example of how the tool could integrate or be used with other Google Marketing tools or Google Cloud Products.
Here, Benoit will take you through the 7 Google Marketing Platform tools and show you how to improve your marketing performance.
Gather the insights you need about your prospects with Google Surveys
Grow your business faster with Google Search
Deliver faster, smarter marketing across media with Search and Display & Video 360
Measure and collect the right data with Google Tag Manager
Monitor and report on your performance with Google Analytics
Share insights across your teams with powerful dashboards in Google Data Studio
Run A/B testing to optimise user experience towards conversions with Google Optimize
Check out the slides from the event here and read on to learn more.
Google Marketing Tools
Google Marketing Platform is composed of 7 tools. Our objective is to provide you with an overview of each of the tools and ideas on how you can use Google marketing tools to improve your own marketing performance.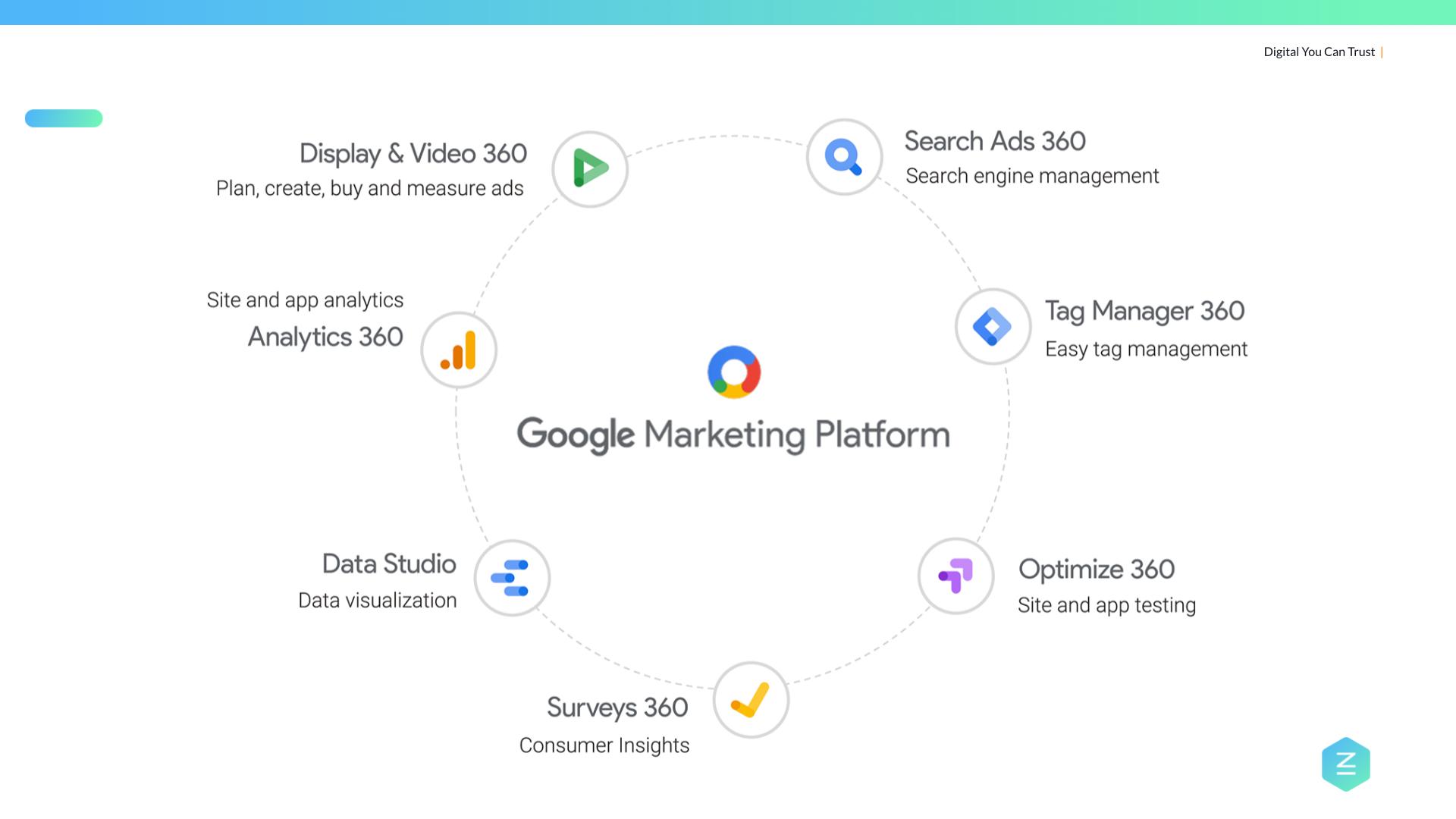 This is Google Marketing Platform. It is composed of 7 different tools.
Analytics 360
Display & Video 360
Search Ads 360
Tag Manager 360
Surveys 360
Looker Studio
Google Marketing Platform is the enterprise level of Google's Marketing, Advertising and analytics suite.
There is a free version of analytics tools and Google ads but the Google Marketing Platform is the next step up.
User Journey
Google Marketing Platform Tools are involved along the user journey. At every stage of the marketing funnel:
Awareness

Interest

Consideration

Evaluation

Decision

Purchase
Google Surveys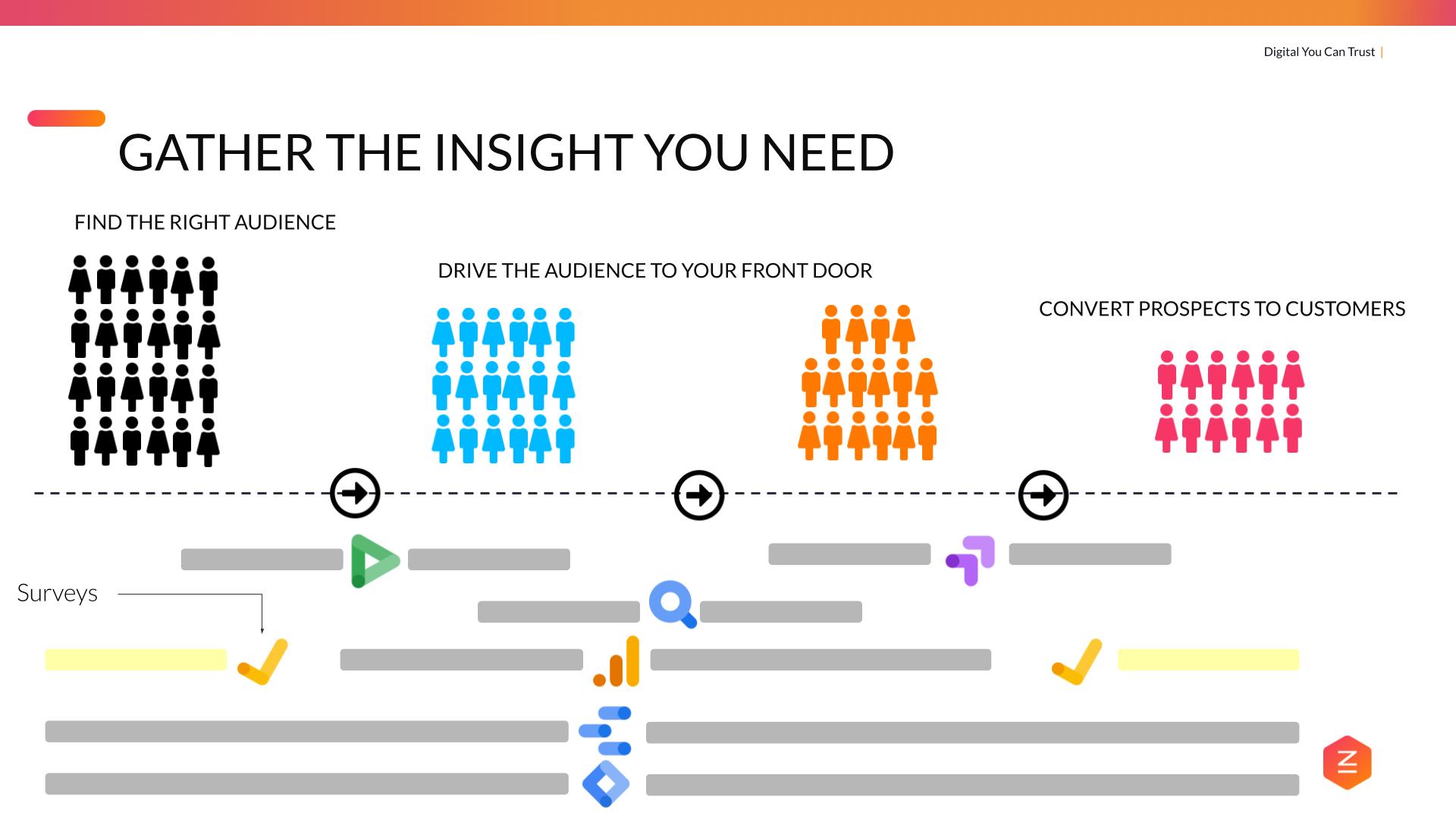 Surveys can be used in the very early stages but also at the end of the marketing funnel. As Google says:
"It helps you turn answers into insights."
Ask the right questions to the right people. Google Surveys offers the tools to get fast, reliable insights from real people across the web. It allows you to make more informed business decisions, understand your marketing impact, and keep a finger on the pulse of your brand.
With Surveys, you can perform 3 key things:
Make better creatives for your campaigns by getting consumer feedback early
Research the opinions of consumers around the world to inform important business decisions
Keep up to date on brand awareness, perception, purchase intent and user trust
How to Create a Google Survey
Google made it easy for us to create a survey.
You write the questions you want to ask
Select who you want to ask (target respondents) based on their age, gender and region
Define and fix the budget and frequency
Wait for users to answer and then generate statistically significant results in a matter of days.
It is really simple and efficient.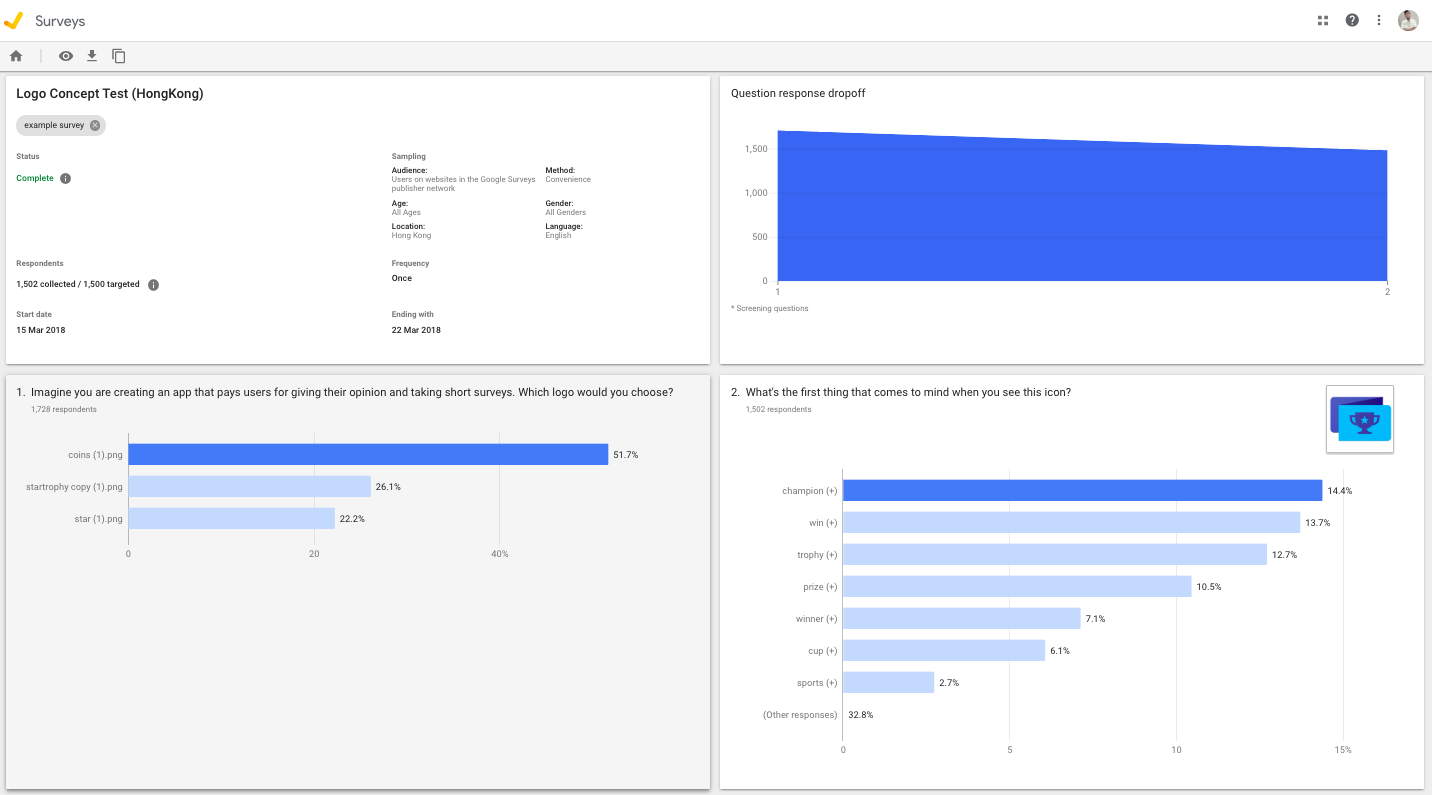 This is how your results will appear in the interface. Surveys cover more than 50 countries in the world.
Use Case
Find Out Why Shoppers Abandoned Their Shopping Carts
Why did your shoppers abandon their shopping carts? Ask them! Curious about how many customers converted due to your new free shipping offer? Ask them! Gather insights on actions taken off-site, and offline, weeks after an online action.
In Surveys 360, you can use a remarketing list as an audience and find out why shoppers abandoned their shopping carts.
Create your audience in Google Analytics
Import your audience lists into Google Ads
Serve your survey to your remarketing audience
Display & Video 360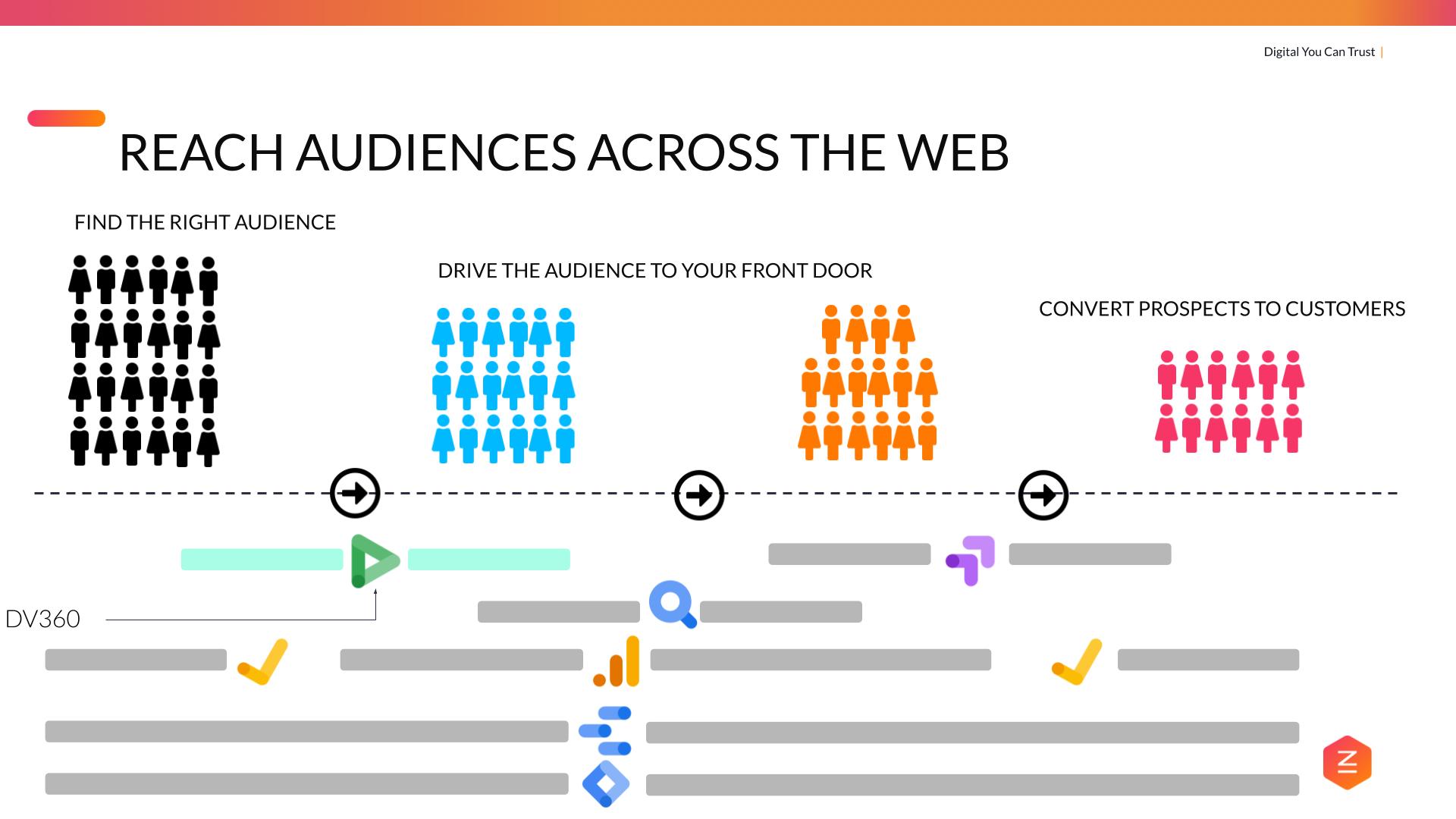 Display & Video 360 is part of the advertising arm of Google Marketing Platform along with Search Ads 360. 
DV360 is usually involved earlier in the user's journey than Search Ads 360.
According to Google, internet users spend 4% of their time on the web on search. Display ads help you reach users in the 96% of the time spent on the web outside of search engines.
Display Video, Native Advertising & Audio
Display & Video 360, as its name suggests, covers Display and Video, but it also includes other elements of advertising such as Native advertising and audio.
All 4 (Display, Video, Native and Audio) are managed within DV360. Native advertising is the use of paid ads that match the look, feel and function of the media format in which they appear.
You build your campaigns, manage your audiences and creatives, you choose the inventory and then serve your ads across the web.
Display & Video 360
For those familiar with DoubleClick, Display & Video 360 is the new kid in town (since 2018). It brings together features from DoubleClick Bid Manager, Campaign Manager, Studio, and Audience Center in a single product.
Display & Video 360 is organised around five integrated modules that work together to simplify the end-to-end campaign process:
Campaigns
Audiences
Creatives
Inventory
Insights
You start by specifying your campaign budget, goals, and dates. Then you define your audience, you can also create audience lists within the tool to target people based on surveys, behavioural and demographic data.
Use Case
Customer Match, Remarketing & Similar Audiences

As an example for Display & Video 360, let's focus on 3 types of audiences we can use.
First, let's start with the integration with Google Analytics (we will cover Google Analytics more later on).
So you could build an audience list for every user that came to your site and showed some sort of engagement and use this list as a display remarketing list.
Or you could create a list of users that converted on your site (bought a product online, or subscribed to your newsletter or that submitted a form), and then use the similar audience feature in DV360 to target users who are likely to engage, click, or convert with your ads.
You could also use first-party data, like your CRM or even transactional data. If your dataset is big enough, you could use customer match. Customer match lets you serve ads based on data about your customers that you share with Google. With Customer match targeting, you can also reach new users by targeting similar audiences to your most valuable customers.
Use the data at your disposal to create audiences for users that are likely to engage and convert with your ads.
Search Ads 360
In Display & Video 360, we build our campaigns, manage audiences and creatives to serve your ads across the web: Display, Video, Native and Audio ads. 
Search Ads 360 is the other advertising tool of Google Marketing Platform.
Basically, where DV360 is more dedicated to awareness, Search Ads will help you serve ads in search engines and will cover more of the interest and consideration phases of the user journey.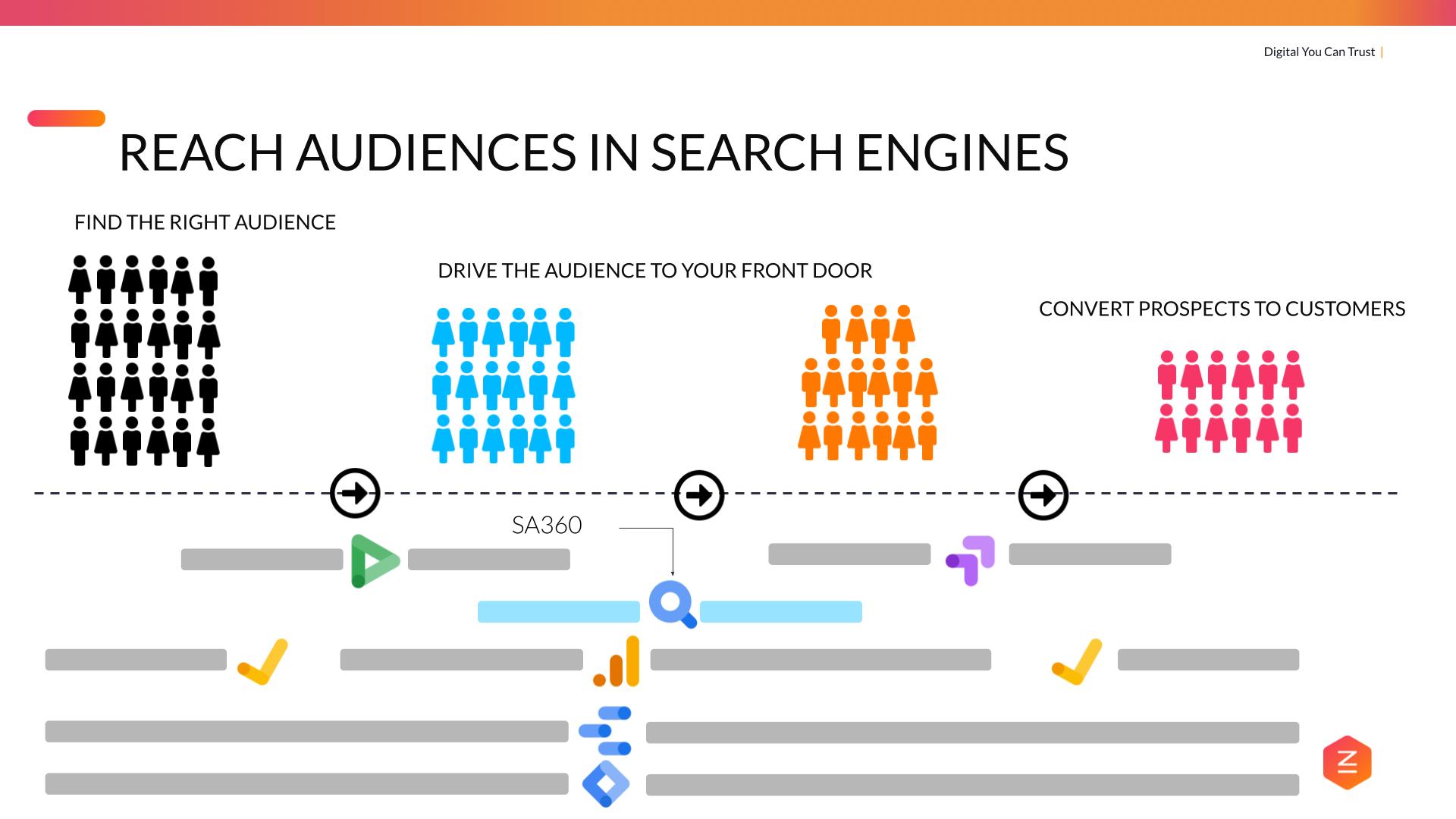 Search Ads 360 will help you manage campaigns, audiences and serve ads on different search engines.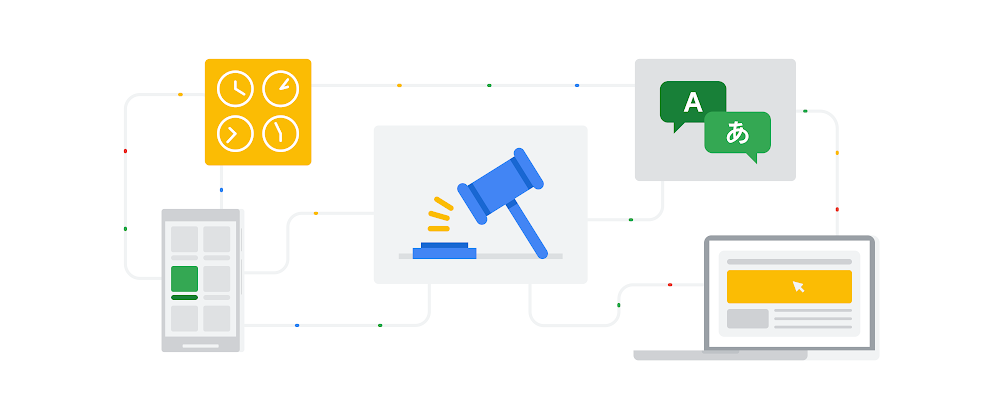 Basically, Search Ads will help you serve the right ad to the right audience at the right time based on a query that a user performed in a search engine.
This works like an auction: everyone can bid and ultimately the ad space goes to the most adequate ads and the highest bidder.
Compare with Google Ads:
Google Ads (AdWords) is a similar tool but it does not allow marketing campaigns to run across multiple engine accounts. It is limited to the Google Search Network and its search partners such as Youtube Search. 
Search Marketing Campaigns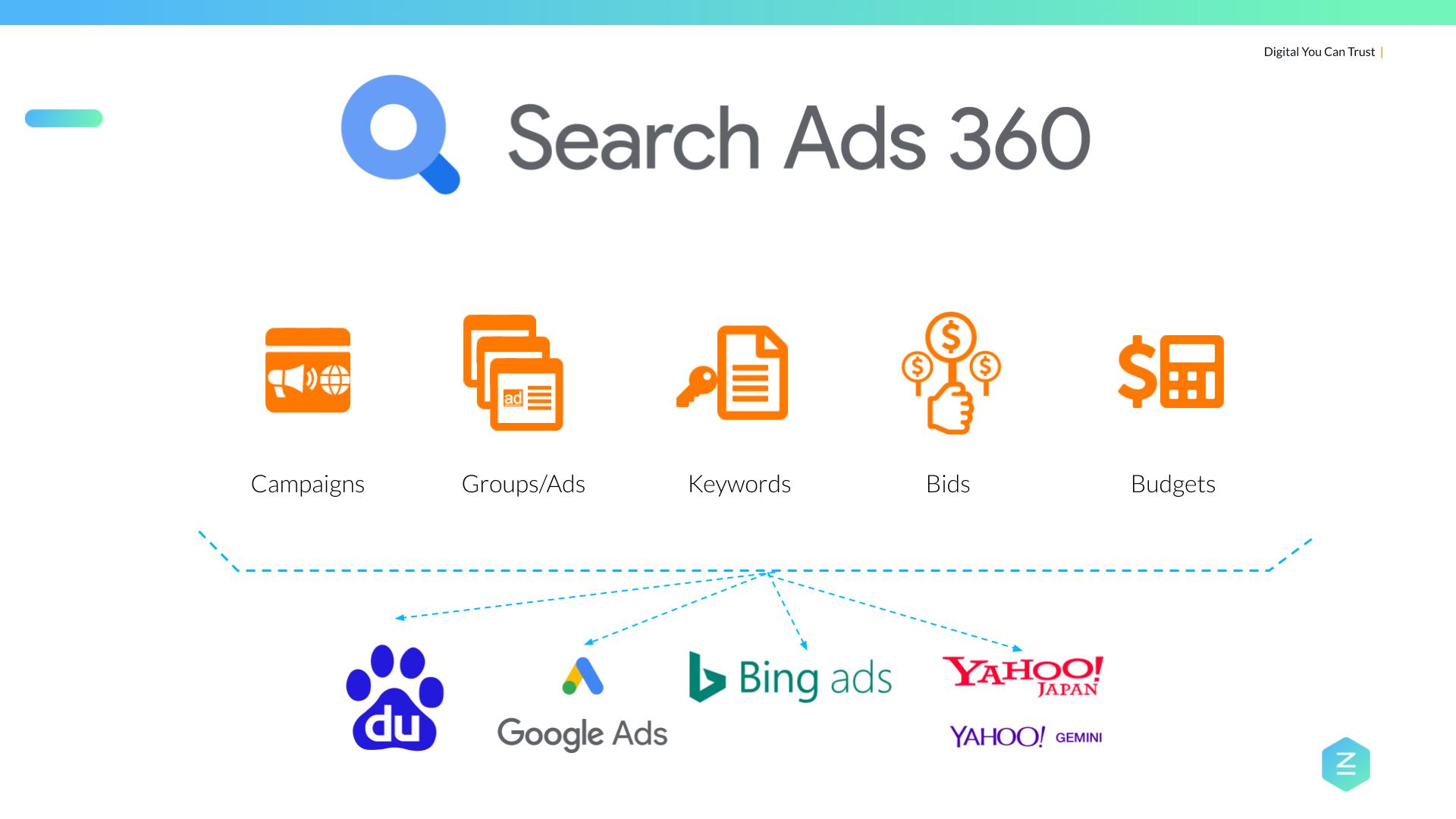 Search Ads 360 is a search management platform that helps marketers to manage large search marketing campaigns, across multiple engines and media channels.
You can use Search Ads 360 to create, manage, and report on campaigns for the following engines: Google Ads, Microsoft advertising, Yahoo, Baidu.
Create and target campaigns across different tools
Manage your budget with bid strategies
Experiment with ad copy and test your landing pages
Upload bulk edits
You will use Search Ads 360 campaigns to traffic ads and keywords to Baidu, Google, Bing or Yahoo.
Without Search Ads 360 (DoubleClick Search), you'd need to manage your ads and keywords on each search engine, and it would be much more difficult to analyse your ad/keyword performance across search engines. You also wouldn't have the automated bidding power of the more sophisticated Search Ads 360 (DoubleClick Search) bid strategies.
With Search Ads 360, you save time, reduce complexity, and have the ability to make better decisions and increase your Return on Investment for search marketing.
Use Case
Behavioural Conversion Prediction

Behavioural conversion prediction is something we have implemented for one of our clients in Australia. This involves Google Analytics, Google Ads (Search Ads) and Display & Video 360.
Integrate CRM with Google Analytics (using lead Id and Client Id from GA)
Use machine learning to identify customers most likely to convert
Import the estimated metric into Google Analytics
Target messaging and experience + adjust audiences and bidding accordingly
Google Analytics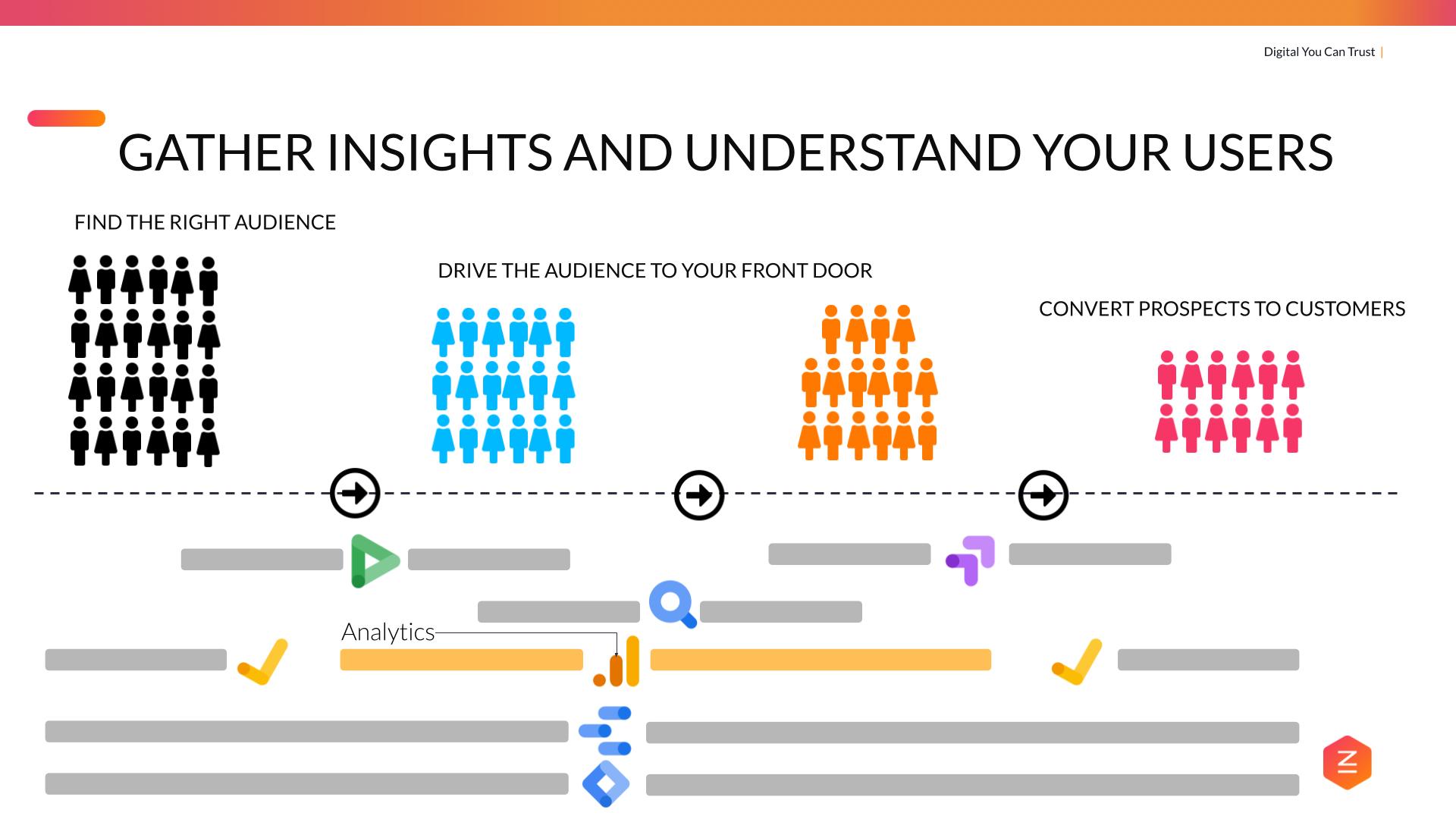 Google Analytics helps you to understand how users behave once they are on your site. 
It provides insight into how users found you, what they have done on-site and if they have done what you wanted them to do (if they have converted).
What is Google Analytics?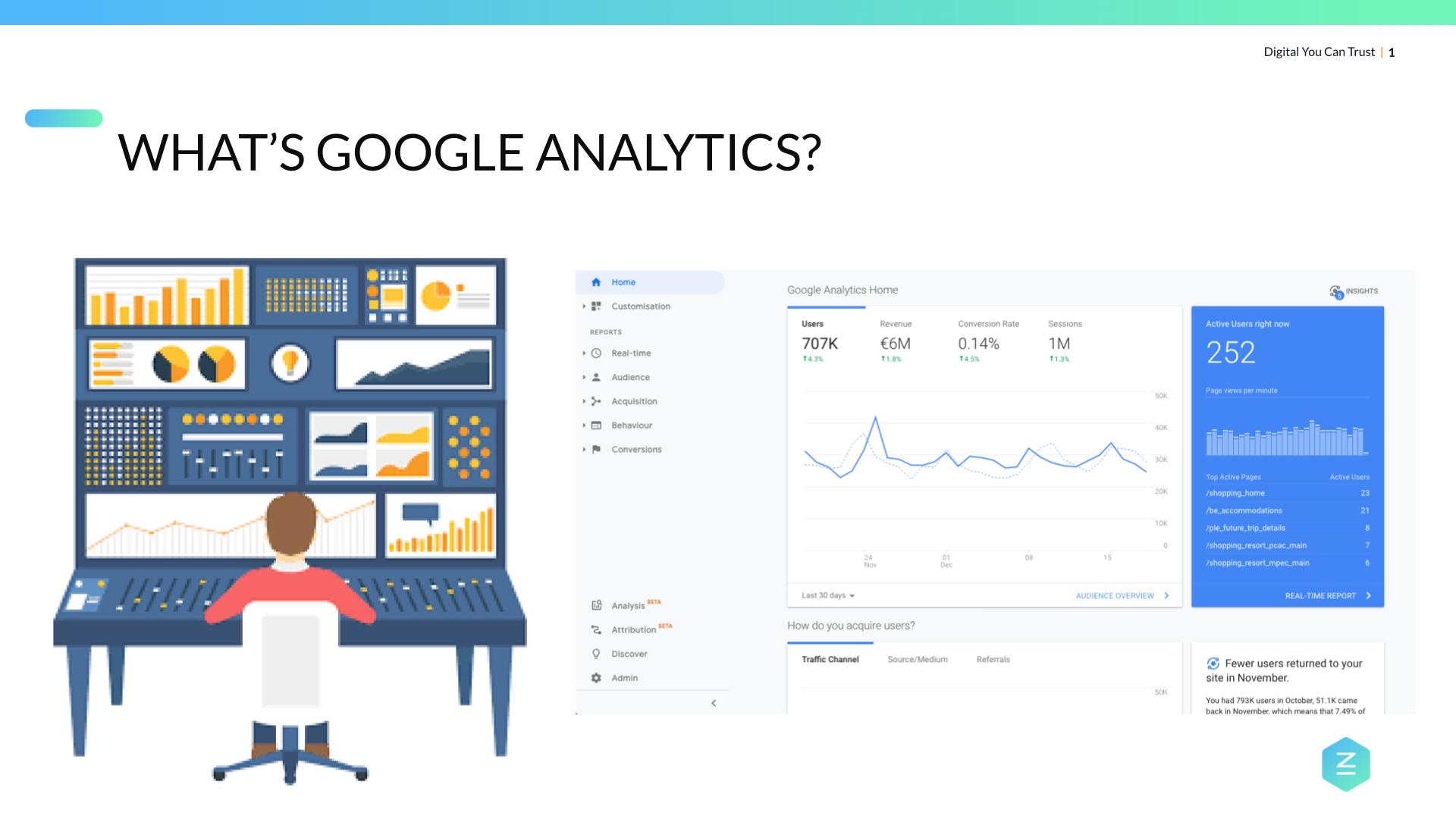 A quick introduction for those who never worked with Google Analytics. It helps you understand:
The performance of your website
The behaviour and demographics of your visitors
What online behaviour led to purchases
You can use this data to make informed decisions about how to reach new and existing customers.
What Can Be Measure in Google Analytics?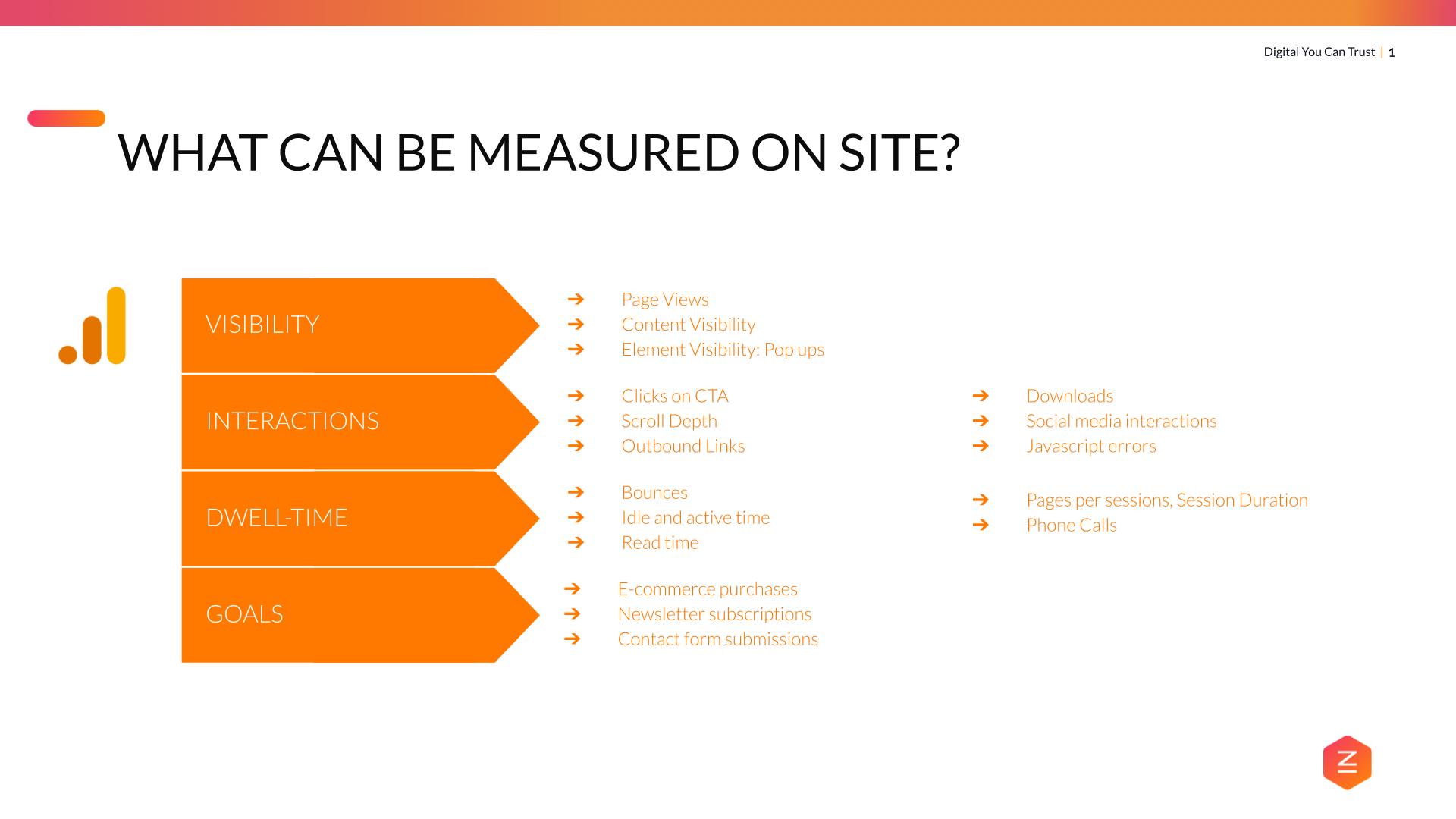 Here is an example of what we could measure on an eCommerce site that has a blog.
We classified the different interactions into groups:
First, you have visibility: What content your users have seen
Second, you have interactions: Clicks on CTA, scroll depth, outbound links
Dwell-Time
Goals and conversions: What you want people to do, achieve on your site
ABC Framework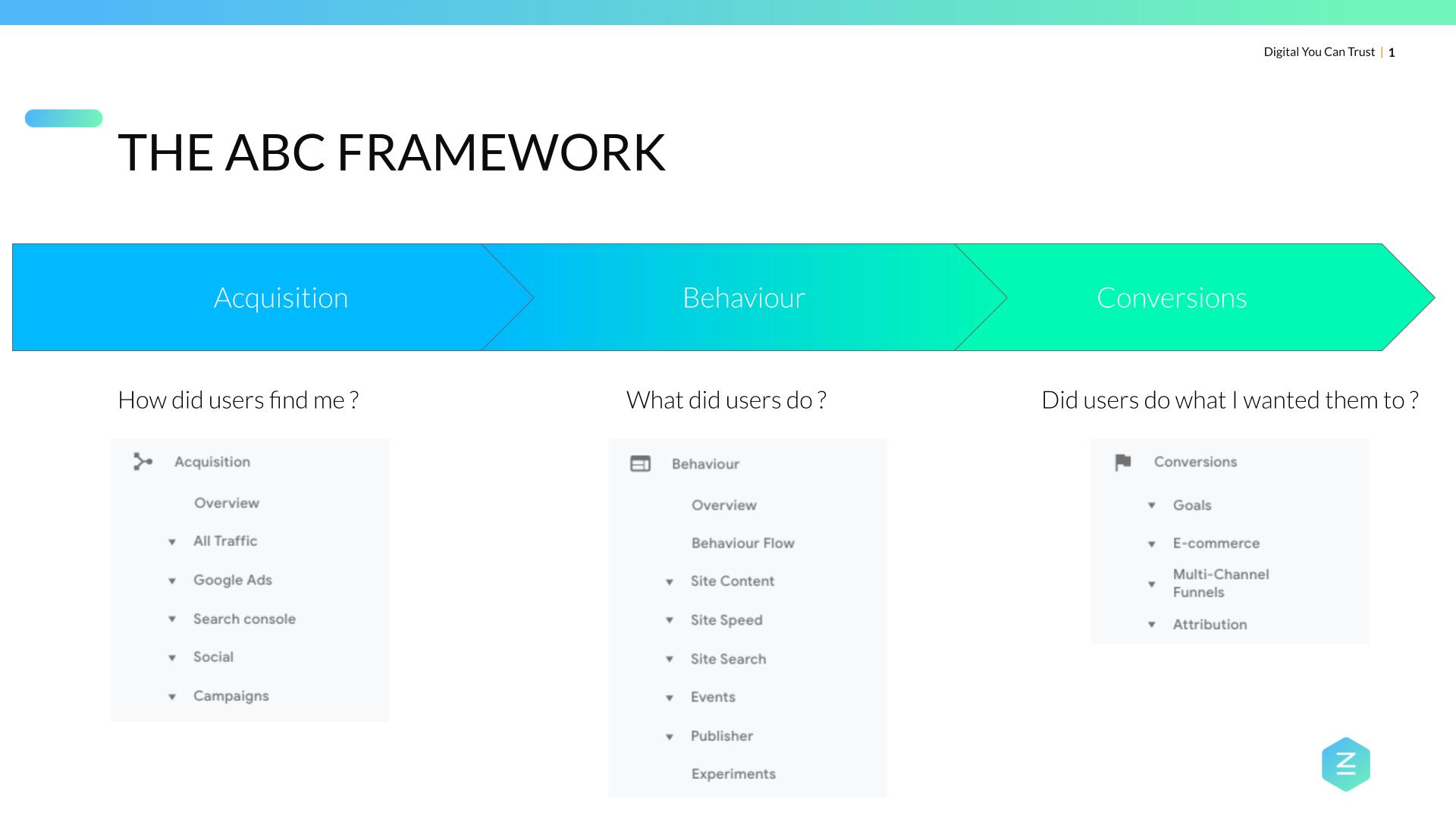 You have 3 main sets of reports: Acquisition, Behaviour and Conversions.
Acquisition: How did users find me?
Behaviour: What did users do?
Conversions: Did users do what I wanted them to?
Use Case
Integrate your CRM with Google Analytics

Integrate Google Analytics and your CRM to be able to report on your lead qualifications. You'll then be able to report on:
TOFU (top of the marketing funnel)
MOFU (middle of the marketing funnel)
BOFU (bottom of the marketing funnel)
Google Tag Manager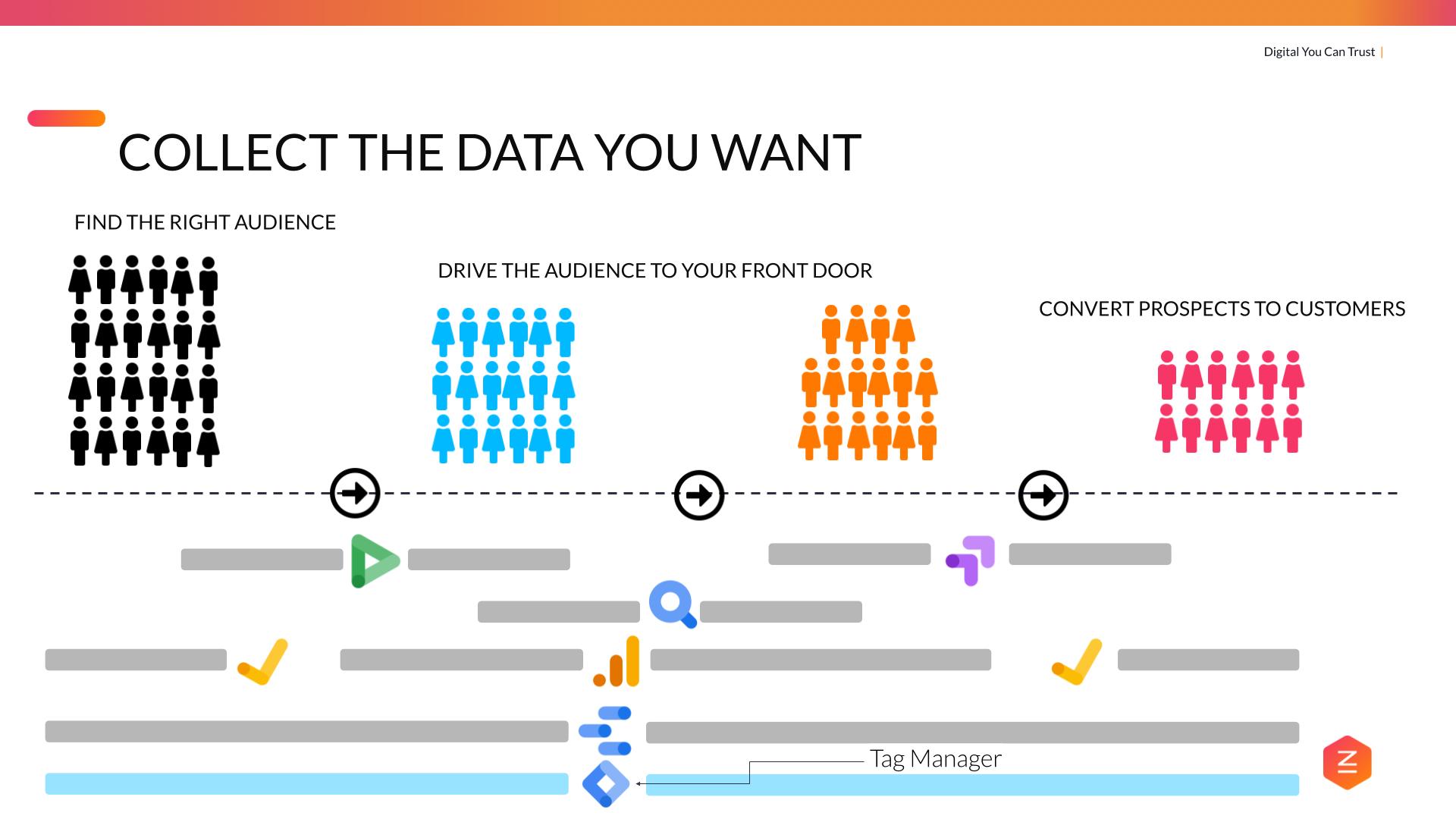 Google Tag Manager aims to simplify the deployment and maintenance of tags.
How to Implement Tags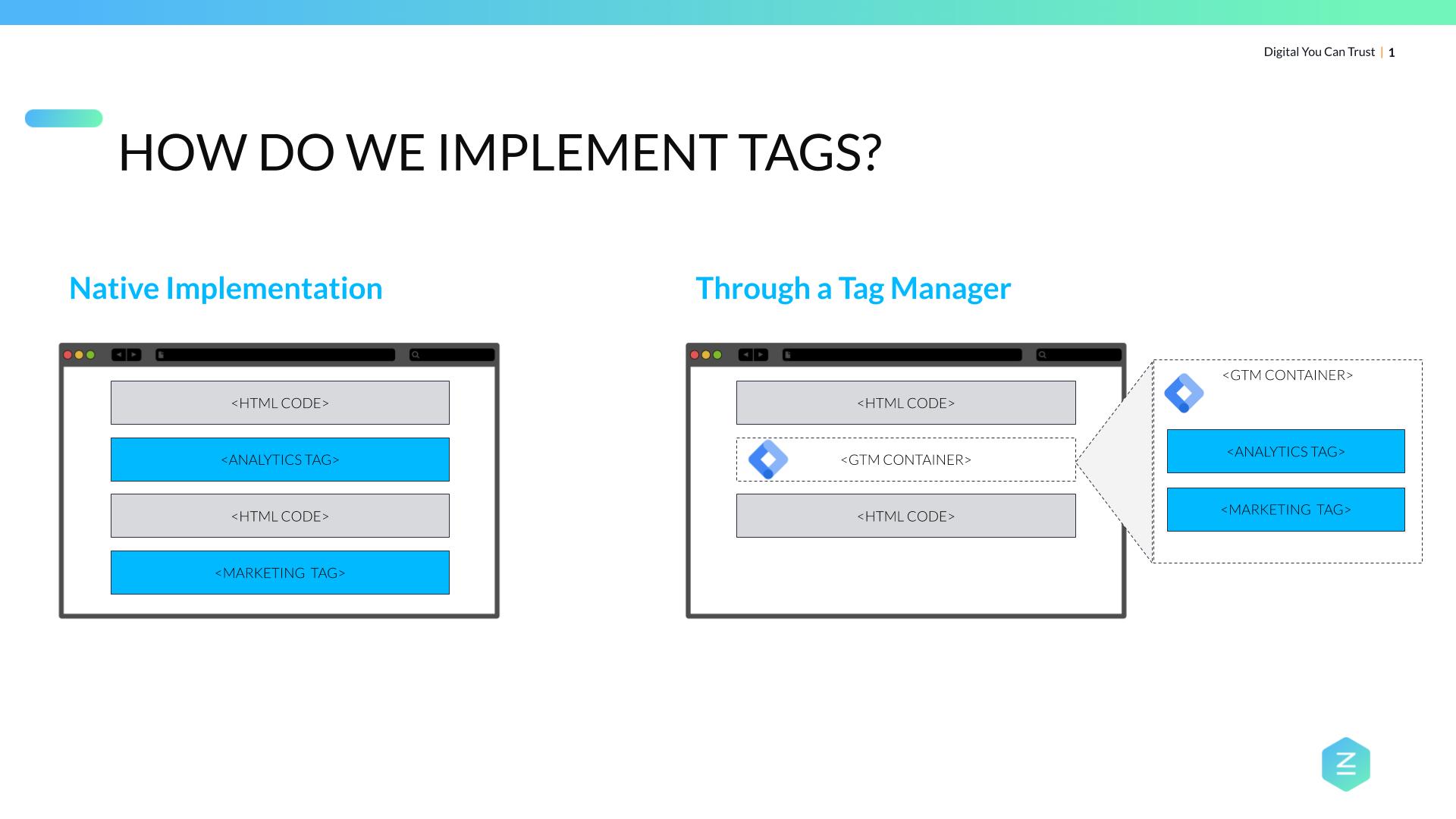 Native Implementation
Tags are hardcoded into the HTML code
Every modification and addition is done in the original code
Through a tag manager
A snippet of JavaScript code is included in each page
Every tag is implemented in a container
The tag management is done within the Google Tag Manager interface
Collect the Data You Want

Google Tag Manager enables you to collect, process the information you want and then send it to the tools you use.
You could send information to Google Analytics (obviously), but you could also use GTM to implement Floodlight tags (to track interactions for Search Ads and DV360), you could implement facebook tags (to report on page views and specific interactions for your campaigns) or you could also deploy other analytics tools such as Hotjar, Optimize, or Crazyegg.
Natively Supported & Custom Template Tags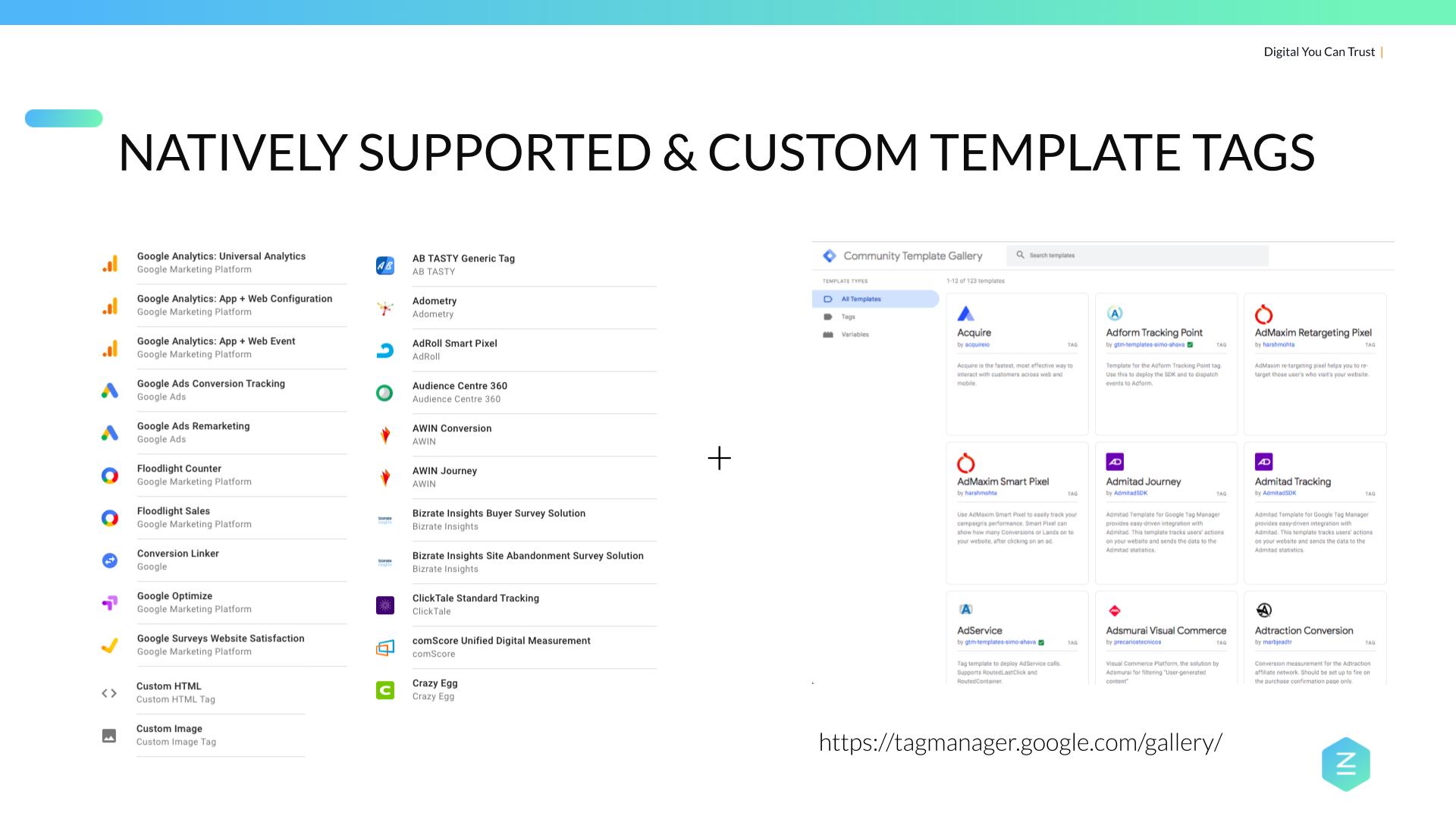 There are a lot of built-in tags and you can even implement your own custom templates or use some provided by the community in the gallery.
Benefits of Google Tag Manager
No need to make source code changes
Track all tags in a single place to avoid duplication and mistakes
Built-in debugging, testing and preview tools
Version control to keep track of changes
Multiple levels of permissions to view, edit and publish tags
A lot of built-in tags are available (automatic update) and there are now custom templates (you can create your own tags or use some provided by the community)
Use Case
Prevent Data Collection Based on Consent
With Google Tag Manager you can prevent data collection based on consent in order to comply with the GDPR and other privacy best practices.
Here are some tools you can use to help you:
OneTrust
Cookie Control (by CIVIC)
Cookie Consent (by Silktide)
Cookiebot (by Cybot)
Looker Studio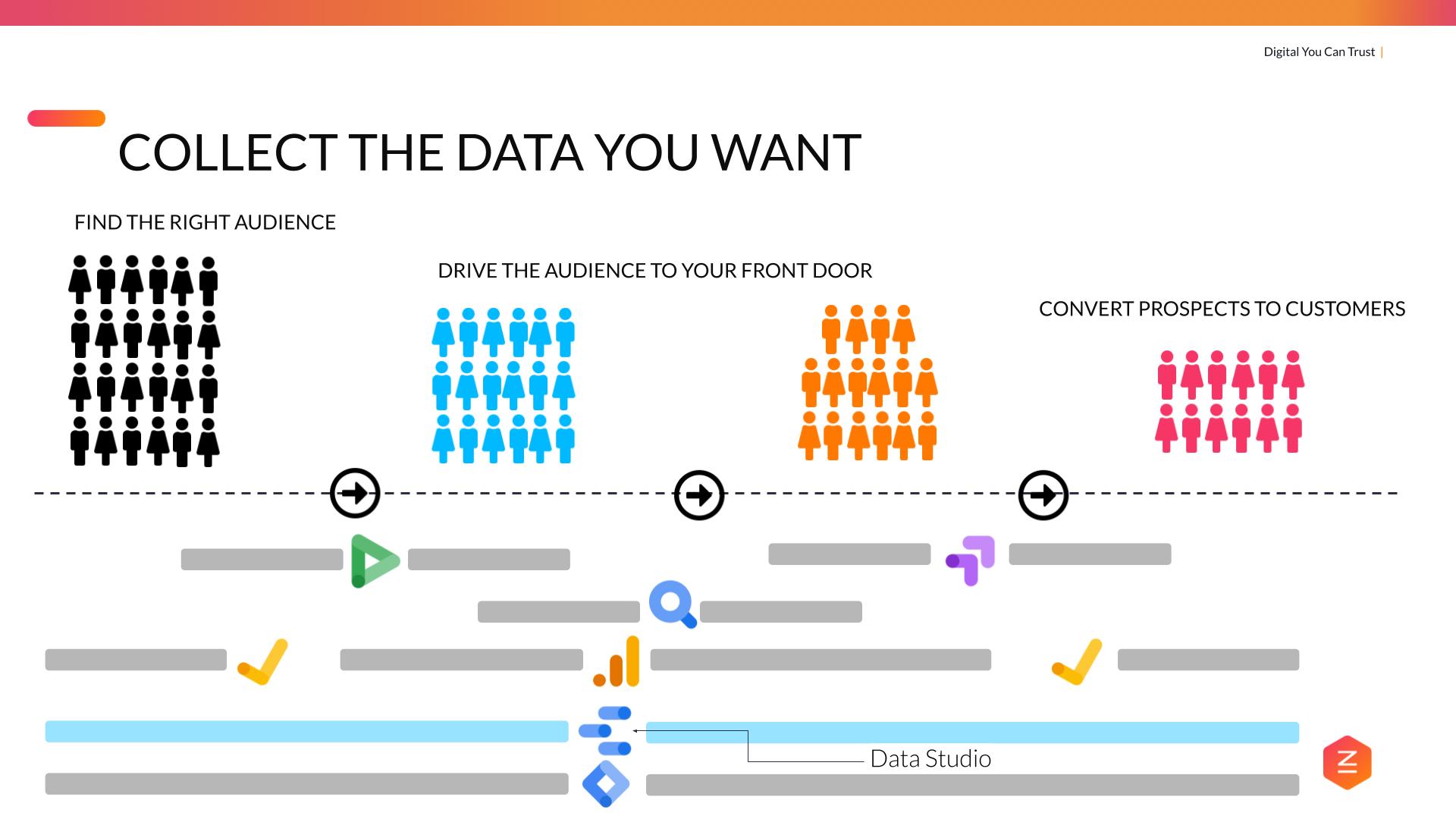 There are 6 steps in analytics effectiveness: the collection, the aggregation, the segmentation, the integration, the visualisation and the interpretation of the data.
The visualisation is essential to effective communication.
The power of visualisation is often underestimated. The right visualisation will help you interpret the causality behind the data.
Tell a Story With Your Data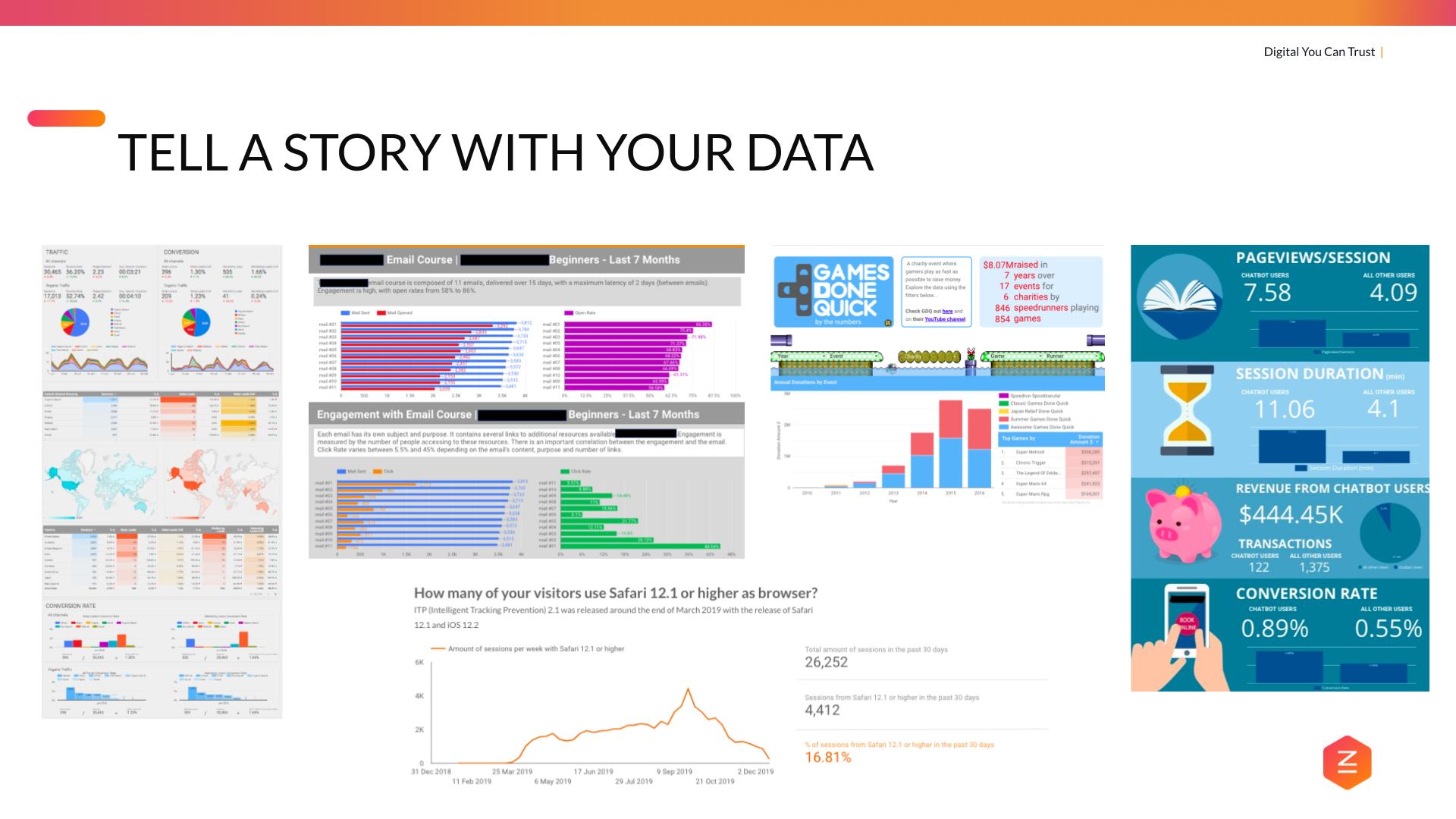 Google Studio enables you to tell a story using your data.
Visualise your data through highly configurable charts and tables

Easily connect to a variety of data sources

Share your insights with your team or with the world

Collaborate on reports with your team

Speed up your report creation process with built-in sample reports
Here in this slide, you can see a few examples:
The first dashboard is using Google Analytics as a data source and can be used to monitor monthly performance in terms of traffic and conversions.

The second dashboard is reporting on email campaign performance: open rate, click rates using google sheets as a data source.
The third one is used to estimate the impact of ITP on your analytics.
This one is Games Done Quick, a charity event where speedrunners play video games as fast as possible to raise money. They host 2 events a year and raise millions of dollars for charities such as Médecins Sans Frontières and the Prevent Cancer Foundation.
The last one is a dashboard reporting on the usage of a chatbot and its impact on performance.
See more of our dashboards here.
Natively Supported and Custom Visualisations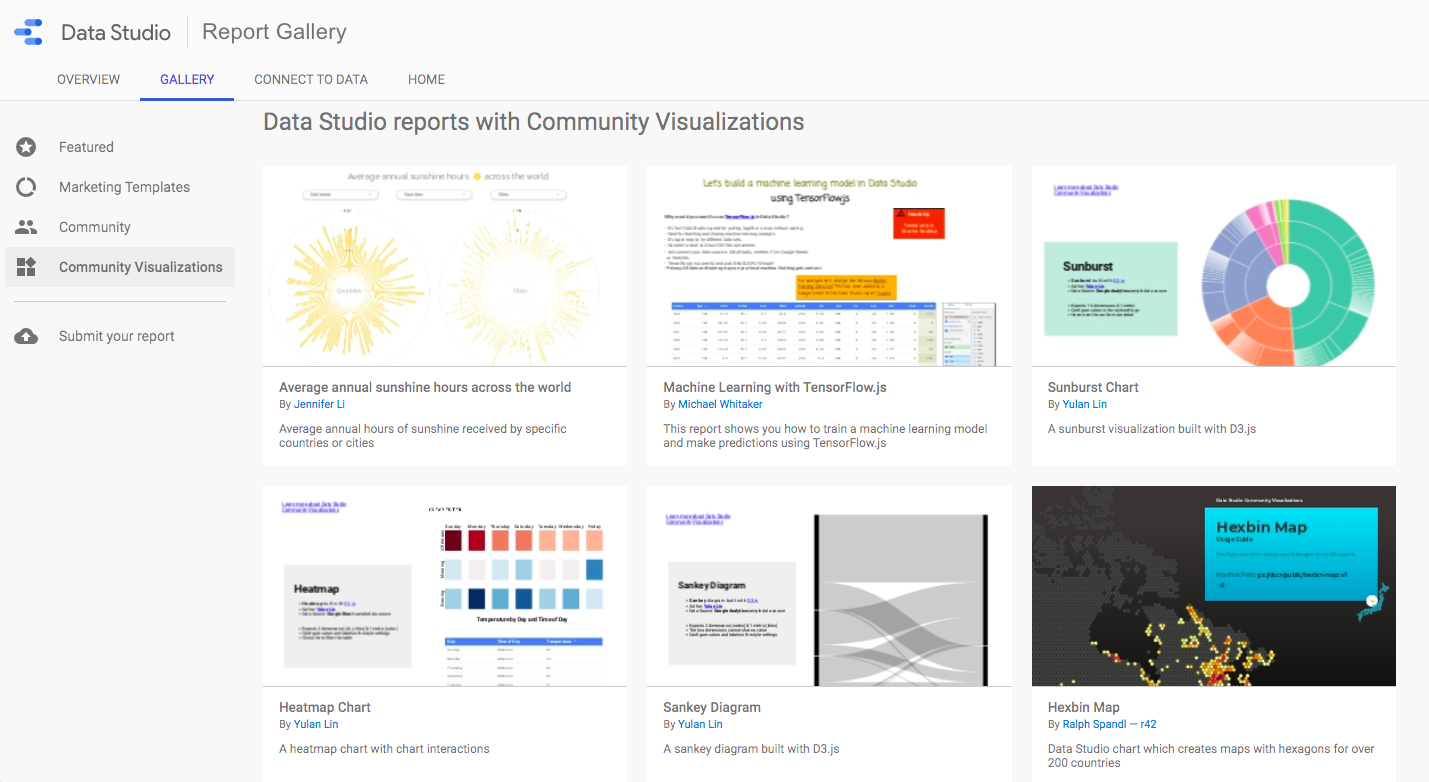 There are a lot of built-in visualisations and custom visualisations provided by the community or you can even implement your own visualisation.
Google Looker Studio Sources

There are loads of data sources. And since you can use excel or even Big Query as a data source, there are almost no limits in what kind of data you can use.
Conclusion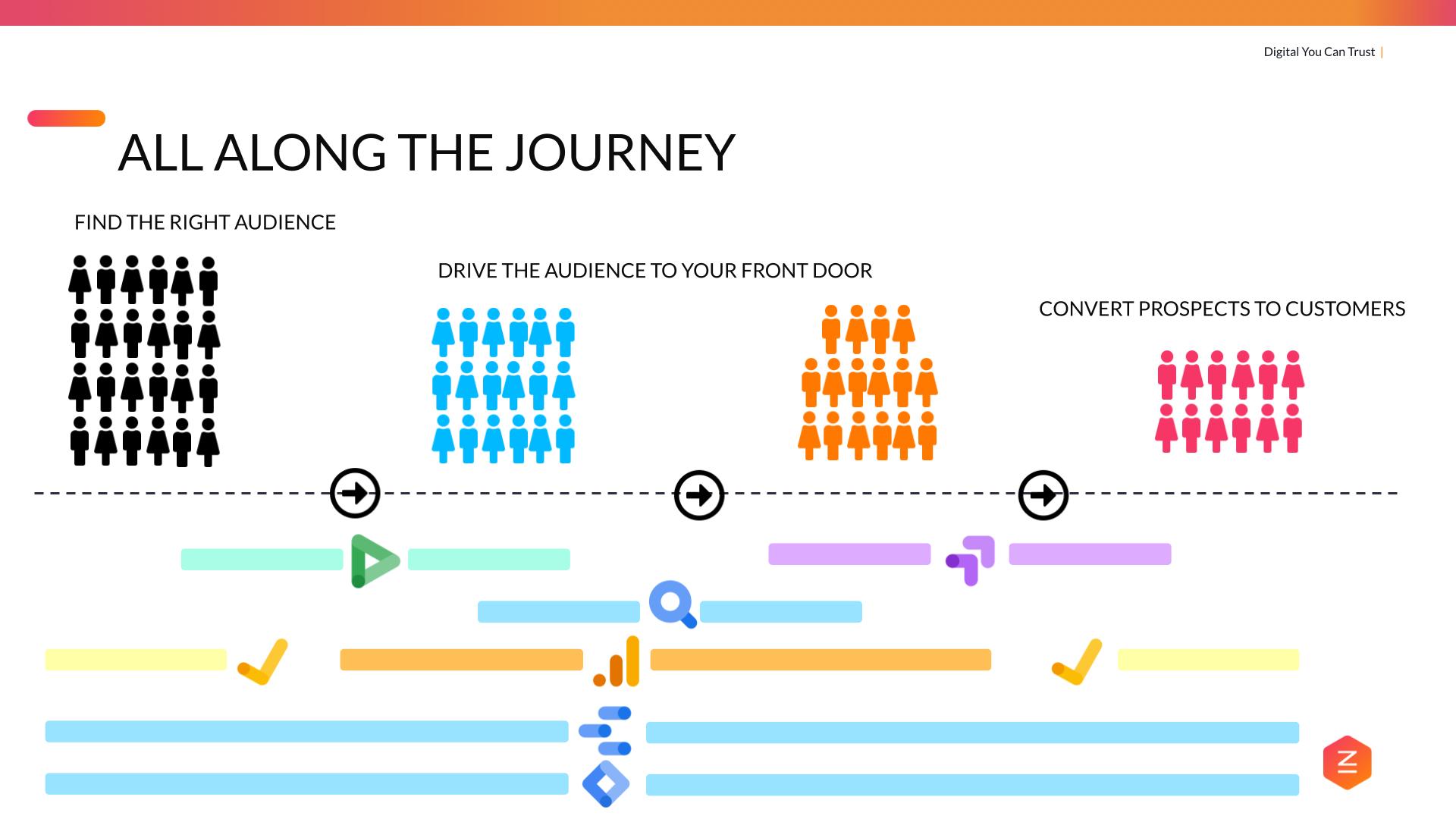 Google Marketing Platform tools are involved along the user journey.
Gather the insights you need about your prospects with Google Surveys

Grow your business faster with Google Search

Deliver faster, smarter marketing across media with Display & Video 360

Measure and collect the right data with Google Tag Manager

Monitor and report on your performance with Google Analytics

Share insights across your teams with powerful dashboards in Google Looker Studio