Google has recently sent out an email to all Universal Analytics users stating that "We'll soon configure Google Analytics 4 for you" but should you let them? The short answer is no. Google has rolled out this solution, however, they don't even recommend taking this approach themselves.
We'll Soon Configure Google Analytics 4 For You
If you have a Universal Analytics account you probably got this email recently stating that Google will soon configure Google Analytics 4 for you. But there's a catch.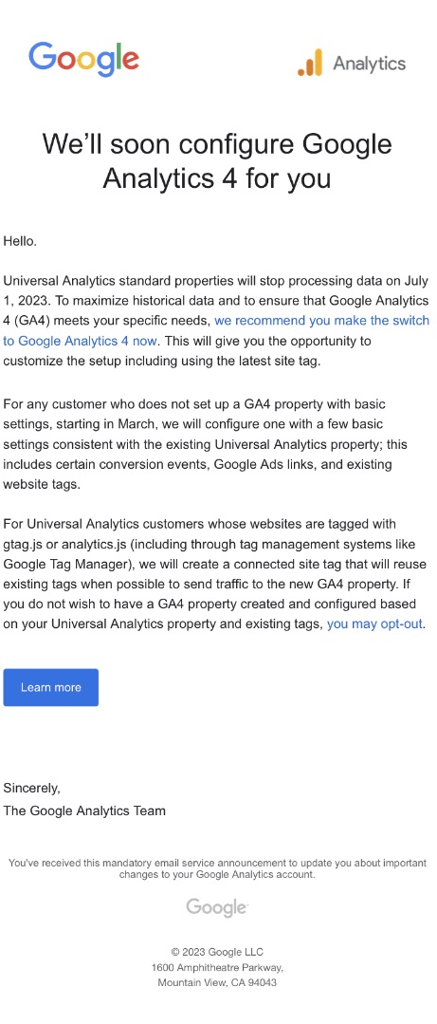 On February 2nd, Google sent out this email to Google Analytics users with admin or edit rights to a Universal Analytics Standard property about this process (a.k.a. Jumpstart).
As part of the launch, Google has also published a UA-to-GA4 linking modal in GA4 that instructs property admins to indicate if an independent Google Analytics 4 property should be associated with an existing Universal Analytics Standard property in the same account. 
Google Does Not Recommend This Approach
"Jumpstart capabilities are limited in their coverage and are therefore never a substitute of equal value to manually setting up and configuring a GA4 property."
Google itself does not recommend setting up Google Analytics 4 with this 'Jumpstart' process. 
Manual setups allow users to tailor and customise properties to provide the best experience in Google Analytics 4. The more complex your analytics setup, the less likely automatically generated GA4 properties can support your needs.
Google stated that "Jumpstart capabilities are limited in their coverage and are therefore never a substitute of equal value to manually setting up and configuring a GA4 property." and went on to say: 
"As such, Jumpstart should not be the relied upon approach where manual migration is possible."
Why You Shouldn't 'Jumpstart' GA4
Unfortunately 'Jumpstart' isn't as easy as it sounds. The process proposed by Google is an automatic solution, a proxy that transforms data sent to Universal Analytics into data for GA4. This means you will have limited control of your data and won't have many ways of changing the way your data is formatted and collected. Essentially, this just postpones your real migration and Google itself suggests doing that as soon as possible.
Measurements across all platforms should be deployed via Google Tag Manager (GTM) to ease not only implementation but also control, and maintenance. And this applies to GA4 tags too. By not doing this via GTM, future changes to the data collection will be difficult.
Your migration to Google Analytics 4 should be taken as an opportunity to review your analytics data and to adapt your measurement plan to GA4. UA and GA4 are not like-to-like, and as such, Jumpstart can only be considered a temporary measure for small-scale analytics. A GA4 implementation project is a good opportunity for your team to review in detail, the existing measurement plan and to fix, adapt and improve it. 
This is also an opportunity to learn about the new tool and the changes it brings. Setting up the tool is only one aspect of the migration process but the most important one is your team's knowledge and making sure they're ready to use GA4.
How to Opt Out and What to Do Next
Steps to opt out of this automatic process are published in Google's Help Center – an API option will be available shortly. If you want to opt out you need to do so by February 28, 2023. More complex features (including goals, audiences and Google Ads links) require additional time to migrate. If your standard property uses any of these features, you'll have at least one additional month to opt out. 
You can opt out at any time before the Google Analytics 4 property is automatically configured. After automatic property creation, the opt out will be locked.
Note that those who have already completed a custom migration to GA4 will still need to opt out.
How to Opt-Out of Jumpstart
In Google Analytics, click Admin

In the Property column, click GA4 Setup Assistant

Click to turn off 'Automatically set up a basic Google Analytics 4 property'
What to Do Next
Like Google, we recommend a custom GA4 migration. 
In the words of Google: 
"Universal Analytics standard properties will stop processing data on July 1, 2023. To maximize historical data and to ensure that Google Analytics 4 (GA4) meets your specific needs, we recommend you make the switch to Google Analytics 4 now."
See our GA4 migration services and talk to us today to make the switch.