For our TrustED Conf 2021 VR World Tour, we heard from Leann Chan, an experienced Search Engine Optimisation specialist, on COVID-19 consumer trends & post-pandemic SEO.
COVID-19 Consumer Trends & Post-Pandemic SEO
It has been exactly 2 years and a day (since TrustED Conf 2021) since the first case of COVID-19 was reported, yet its profound effects continue to be felt around the world. Isolation, contact restrictions, and economic shutdown completely changed the way we live and subsequently, our consumer behaviours have changed with this lifestyle shift.
Let's take a look at how COVID-19 has affected consumer behaviour, and in what ways have businesses had to evolve their operations to stay afloat.
Social distancing and lockdowns have forced changes in demand for certain products and services, and in turn, have posed new challenges to businesses. We've seen rapid adoption in technologies that were much less prominent in everyday life so businesses can continue operating, for example:
QR codes make a comeback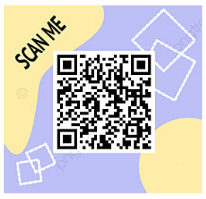 QR codes replacing physical menus at restaurants, or in electronic check-in systems for contact tracing or;
Increased cashless payment adoption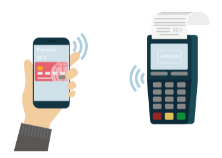 Contactless payments and delivery options have spread to a wider range of merchants.
Personal hygiene products we never thought we needed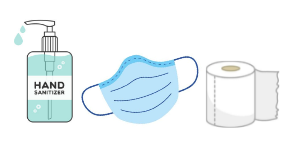 Rise in demand for personal hygiene and protective products.
One of the few good things that have come about this pandemic is the greater emphasis on health and wellbeing that are also affecting the way brands create their marketing campaigns.
It's clear that businesses have been forced to think outside the box in their marketing efforts in order to reach more customers with many savvy marketers already making shifts in their strategies and investing in more SEO.
Search interest in 'SEO' peaks
Source: Google Trends
Region: Australia
Date Range: 1/1/14 – 13/11/21
According to Google Trends, the search term "SEO" and related terms have seen a spike in interest in Australia since February 2020.
As businesses work hard to remain relevant to their target customers throughout this pandemic, maintaining a strong digital presence through SEO and content marketing is and will be one of the most important steps they take. As physical stores make a slow recovery in terms of foot traffic, digital advertising and e-commerce has become more important than ever.
Apart from increased interest in SEO, and COVID-19 search terms there has also been an upward trend in non-COVID-related websites, mostly in the hobbies & interests as well as fitness and wellbeing categories.
When clients enjoy free SEO from the pandemic

Organic performance of a retailer website offering in-store and online shopping
Source: Google Analytics
Channel: Organic
Date Range: Jan – Oct (2020 v 2021)
A specialised Aussie website selling products relating to a hobby category,

Saw an influx of organic traffic when COVID was declared a pandemic in March 2020

It was recommended to them that while they ride this wave of COVID lockdown SEO traffic, they also need to sustain this traffic by continuing with their SEO efforts!
So the question is,  what were some top-level recommendations made to them?
SEO 'musts' to survive and thrive through a pandemic

The majority of the recommendations made to them fell into these top 4 categories, but of course, this is not an exhaustive list.
More often than not, and as I had experienced first-hand with this particular client, technical changes to their website were out of the question. So here are some SEO elements offered to them that required little to no web development resources but remain more important than ever. Even after the pandemic.
Google's focus on quality content
Google's focus on the trustworthiness of content is immediately apparent when you search for anything related to COVID-19. The SERP focuses on the latest news and information from the WHO and the CDC and purposely ensures that low-quality results, such as conspiracy sites, remain off the first page of Google.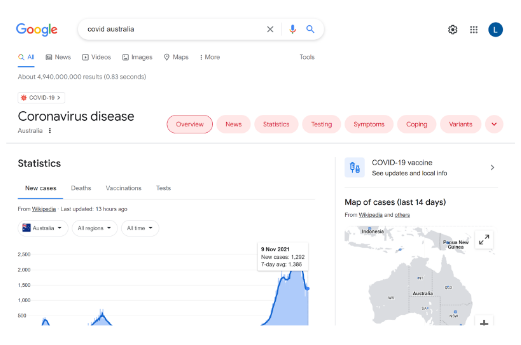 The same can also be seen on YouTube's search results.
Google's carefully selected coronavirus SERP demonstrates the importance of high-quality information. So if a client's industry has been directly impacted by border closures and lockdowns, it's important that any information published relating to COVID-19 passes Google's standard for high-quality relevant information.
Educational content as a core focus
Studies have also shown that brands that deliver educational content are more trustworthy than brands that don't. And that is why going back to basics never hurts when it comes to content and SEO.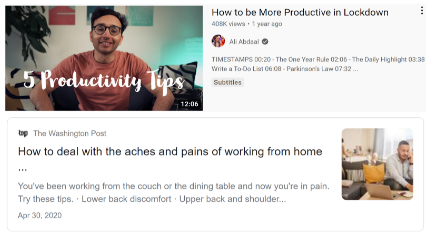 Keep prospects engaged about your brand and the products or services but don't overwhelm them with unrelated marketing content.
Personalise your content and stitch it together, so it does nothing but help in problem-solving.
It might even come across as a bit tasteless to harp on about the additional features of your product or service at a time like this which is better served on a later occasion while you try to solve only their current needs.
Blog posts – How to deal with aches and pains of WFH

Blog posts – Best air purifiers

Video – How to be more productive during lockdown

Guides – The ultimate guide to homeschooling during the pandemic
As a side note: The more we show our human side, the more we can all feel connected – even if we are physically apart.
Reputation management
Keeping a pulse on brand sentiment allows you to respond to customer questions and pain points in a timely manner.
Review short to medium term marketing campaigns

Update your Google My Business page

Monitoring of search demand and social media mentions

Keep an eye on Google Search Console
On top of creating educational content to demonstrate your trustworthiness, it's important that your short to medium term marketing campaigns are tactful and relevant to the current circumstances.
Marketing campaigns that make you go hmmm…?
There was an attempt where McDonald's Brazil showed their support for the idea of social distancing by separating its Golden Arches into two separate arches. While also promoting its drive-in and delivery services, along with good hygiene.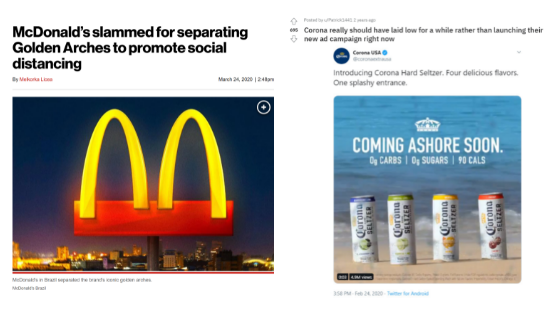 The responses weren't pretty with one angry Twitter user response being – "F - - k right off you award-desperate morons,"
And another chiming in pointing out the low wages the food giant pays their workers.
The Corona brand copped an earful on social media when they released their new line of hard sodas as the COVID pandemic unfolded back in February last year. 
Local SEO
Local SEO is more important than ever as travel restrictions push consumers to shop more locally. 
Explore 'Near Me' searches

Google My Business (GMB) Optimisation

Improve your presence on social media
This is more important than ever for essential services providers like medical centres and health specialists, restaurants, convenience, and smaller grocery stores, etc. but also include retailers offering COVID-safe shopping options.
Exploring 'Near Me' searches
According to HubSpot, there was a 150% growth for phrases such as "near me" since the initiation stage of the COVID pandemic.
This trend can also be seen on Google trends where the first spike started in December 2019 as the coronavirus became more apparent in the news and again in April 2020 when the pandemic was declared a global emergency.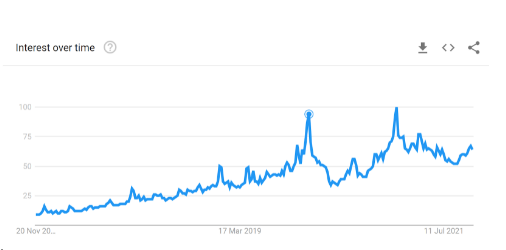 Increased search interest for 'near me' queries since December 2019
Source: Google Trends
Region: Australia
Date Range: 1/11/16 – 16/11/21
So while there is no sure-fire way to optimise your website for 'near me' search terms, focusing your efforts on aligning your location landing pages with the information provided on Google My Business improves your chances for extra visibility on local search.
What to optimise on Google My Business
Opening hours and trading status are two extremely important elements to get right – god knows how many times I've driven up to a restaurant that was marked open on Google but ended up being temporarily closed because of COVID!
The Health & Safety fields provide users with the confidence that you take public health seriously; These were new attributes added in September last year;
Information like if appointments or reservations are required, if customers are required to wear a mask, and how else your business curbs the virus from spreading.
Offering this information on your Google My Business listing and posting any last-minute changes to trading conditions helps you manage customer expectations, and build rapport.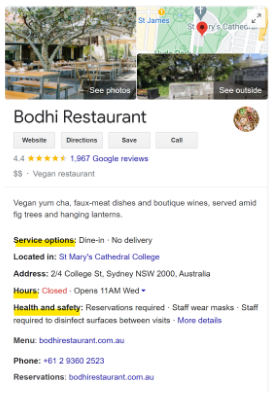 Top elements for optimisation:
Opening hours

Trading status (e.g. Is it temporarily closed?)

Health & Safety

Service Options

Menu

Reviews

Regular posts and updates
Evolve with the trends
We have seen how brands think outside the box and innovate ways to bond with customers all while keeping their businesses afloat. Some examples are:
Aussie gin distilleries pivot to make hand sanitiser – Archie Rose, Four Pillars Gin, Manly Spirits Co. produced hand sanitiser to bridge the demand gap

Airbnb offers online experiences

Tinder, Bumble and Facebook Dating offer video dating

Fine dining restaurants like 2 hatted Bentley Restaurant & Bar moving into the grocery space, offering $110 snack box with 13 different packets to formulate their multi-course meal, instructions on how to plate it, and even a link to a curated Spotify playlist to play in the background.

Consumer-goods powerhouse Unilever has pivoted to prioritise its packaged food, surface cleaners, and personal hygiene product brands over other products, such as skincare, where demand has fallen
Key takeaways
Any information published relating to COVID-19 must pass Google's standard for high-quality relevant information

Create content that answers real-life problems

Educational content is always a good way to capture organic traffic, build authority and trust, and engage prospects

Local SEO is more important than ever as travel restrictions push consumers to shop more locally

Be proactive about SEO no matter how well you are performing